Six days before his second draft with the Jets, GM Mike Maccagnan met with the media for his pre-draft news conference. Here is a six-pack of takeaways from his afternoon briefing at the Atlantic Health Jets Training Center.
Trade DiscussionsMaccagnan acknowledged the Jets did in fact inquire about the Titans' No.1 overall selection. The NFL has already had a pair of pre-draft blockbusters as the LA Rams acquired that top selection from the Titans and that preceded the Philadelphia Eagles obtaining the No. 2 overall selection from the Cleveland Browns.  Maccagnan will continue to stay busy on the phone this week, calling all 19 teams in front of the Jets and the 12 teams behind them as well.
"There probably will be players if they fall to a certain point, if we think there's a chance to go up and get, we're open to that option too," he said. "But then on the other side of it, I'm very much of the mindset of hey if there's an opportunity to move back from 20 and pick up more picks, we may do that also."
Fitz the FocusAlthough the Jets continued to do their due diligence this week as the team met with Brian Hoyer, the focus remains on re-signing Ryan Fitzpatrick.
"Our focus has always been Ryan," Maccagnan said. "We like Ryan and that's what we're trying to facilitate, but we have to be prepared for anything that may happen."
Earlier this offseason, the Jets also met with Robert Griffin III.  While the Jets like Hoyer as a prospect, Fitzpatrick has remained the top option and Maccagnan remains hopeful the two sides can hammer out a deal.
"I like Ryan a lot as a person," Maccagnan said. "And I think he's a very, very good professional football player and he brings a lot of things to the table that aren't necessarily on the field. It's the intangible stuff."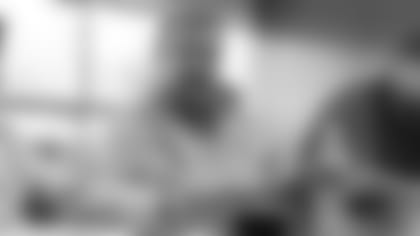 Multiple Options with WilkersonThe franchise designation on DL Muhammad Wilkerson has provided the club some flexibility, but Maccagnan said he has not/will not consider rescinding the franchise tag.
"As of right now and going forward, he's under the franchise tag and that leaves you with multiple options," he said. "You can negotiate a contract with him to a specified time in July, you can have him play out the contract and then re-evaluate it a year from now and see what you want to do from there."
Clady a Clean Bill of Health
Four-time Pro Bowler Ryan Clady, whom Maccagnan acquired from the Denver Broncos after D'Brickashaw Ferguson's retirement, in in good physical condition as he starts with his new team. Clady sat out the 2015 season after a torn ACL and he missed most of the 2013 campaign after a foot injury.
"We felt very good about Ryan where was at and we had a chance to give him a physical," Maccagnan said. "So at the end of the day, even though he missed last season like a lot of players miss seasons due to injuries, we felt the injury in terms of how the rehabilitation process had come along, we felt very good about. And we'll see how it plays out going forward."
Paxton Lynch a Good ProspectWith Jared Goff and Carson Wentz expected to be selected 1-2 next weekend, many people are wondering just how high Memphis signal caller Paxton Lynch will be taken.
"He has a degree of skill which is intriguing. He also has played in an offense that is not a traditional NFL offense. We're actually working with Bryce (Petty) – we have some familiarity with the transition that you have go from a different style of offense to the NFL of offense, to more of a pro system," Maccagnan said. "But in terms of how much we like him or don't like him, I don't necessarily want to give any insight in that aspect of it. But we do think he's a good prospect."
The ApproachWith less financial flexibility this offseason, the Jets took a different approach since the league year commenced. Maccagnan insists that long-term sustainability is gained through the draft and he also mentioned today the Jets should have more resources down the road.
"The goal is not just mortgage the future and I think we've tried to take that approach, a little bit of a measured approach," he said. "We haven't sort of leveraged everything up to go try and make one big run and at the end of the day have to sort of tear it all it down. I think our goal was to always make ourselves as competitive and give ourselves flexibility a year from now, two years from now where maybe we'll be in a situation where we're going to have more cap and ability to do things. That's kind of been our approach since Day 1."