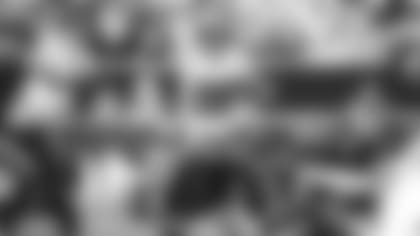 Picking up where he left off before the bye week, RB Le'Veon Bell once again was the Jets' workhorse against the Eagles, receiving 22 of the club's 44 offensive touches in a 31-6 loss. Despite totaling 88 hard-earned yards from Bell, the offense yet again was stymied while producing just one score.
"We just have to correct mistakes, get better offensively," he said. "I think the defense played their tails off, special teams continually giving us sparks. Offensively, we just have to get better. Period. Once we get better on offense, we'll look like a totally new team, a totally different team. We're going to turn it around. I don't know which date or what game or what mark it's going to be or what's going to do it, but I know we're going to find some way to get the ship sailing in the right direction."
The 6'1", 225-pounder rushed for 43 yards on 15 carries behind an offensive line that started Alex Lewis at left guard in place of Kelechi Osemele (knee/shoulder) and Chuma Edoga at right tackle for Brandon Shell. Bell also added 45 receiving yards on a team-high seven receptions and almost had eight — QB Luke Falk tried to find his running back on 4th-and-1 in the first quarter, but the throw was slightly behind Bell and Eagles LB Nathan Gerry jumped the route and returned it 51 yards for the score.
"I saw the guy behind me, kind of. I knew [Falk] was under pressure, so he tried to throw it to me," Bell said. "I knew it was a little behind me, so I tried to go back and get the ball and that's when I kind of saw the flash across my face and he caught it and ended up scoring."
Until Sunday, Bell was the only offensive player on the Jets to find the end zone in 2019. Early in the fourth quarter, the Green & White were set up on the Eagles' 19-yard line after Trenton Cannon recovered a muffed punt. On the ensuing play, WR Vyncint Smith scored on an end-around as Bell helped Smith find paydirt, blocking CB Rasul Douglas.
"It's definitely difficult," Bell said of the offense's two touchdowns in four games this season. "You don't want to go out there and look the way we looked in terms of the score, but I think when I go look at the film, there's going to be a lot of positive things. It's still like four or five plays that dramatically turned the game. That's all it takes in football, that's what people don't understand. Football is literally a game of inches. A play or two can change the whole game. Credit those guys, they made the plays today. We just have to get better."
Even though the Jets have been without Sam Darnold since Week 1 because of a bout with mono, Bell believes the skill players could've done a better job helping out Falk, who completed 15-of-26 for 120 yards with two interceptions and was sacked nine times Sunday.
"It's just really the first quarter of the season," Bell said. "Right now, we're 0-4. It's the first four games, we have 12 left, so we have to make the most of these next 12 games."
See Best Images from the Road Trip to Philadelphia