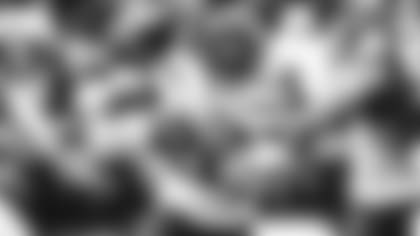 Jets RB Le'Veon Bell's stats may not be on par with 2014 when he eclipsed 2,000 yards from scrimmage with the Steelers, but he feels he's playing at a similar level.
"I feel like I've been running hard, breaking a lot of tackles, and I haven't dropped a ball all year," Bell said. "I've been doing great in blitz pickups and pass protection. I haven't been making a lot of mental mistakes and any time they call upon me, I make a play. This is some of the best football I've played in my whole career. I don't care what the stats say."
Bell's 557 rushing yards this year ranks 19th in the NFL and he's yet to eclipse 70 yards on the ground in a game. He's been picking up steam, however, and has averaged 97.3 yards from scrimmage over the last four games compared to 63 in Weeks 5-8. Bell is now 75 yards away from 1,000 yards from scrimmage -- he broke the century mark last week against the Raiders with 108 total yards.
"I feel good," he said. "I'm just about winning games right now. I understand the game of football has its ups and downs. As long as we win the game, I'm fine. I think the games will come. I'm not rushing it or feeling bad about myself or anything. This is some of the best football I've played. The last two games, I didn't even play in the fourth quarter, so we can't expect me to get 150 yards when I didn't even play in the fourth quarter. That's a good problem to have, so the fact that we've been doing that, that's all that matters to me."
In the last two games, against the Redskins and Raiders, Bell increasingly has been deployed out wide as a receiver. Last Sunday, he had 5 receptions for 59 yards, 3 yards shy of his one-game season high. Bell said he and Coach Adam Gase envisioned using him more out wide in the beginning of the season and Bell hopes his role will expand.
"Now, we have more a flow, so [Gase] is able to move me around a little more because he knows I have a better understanding of the offense and I've been putting good football on tape," Bell said. "He's been finding different ways to utilize me other than the running game, so hopefully we continue to grow with that.
"He knows the type of player I am and I think Sam [Darnold] is comfortable with it, too, so it's really about a comfortability level with me, Coach and Sam and all of us getting on the same page and we'll continue to grow that package."
The Jets are hot and have scored 34 points in each of the last three contests, which is the third-highest mark in the NFL over that span. During the three-game winning streak, Darnold ranks among the top 10 in the NFL in completion percentage (8th), passing yards per game (8th), passing touchdowns (T2nd) and passer rating (4th).
"It feels good," Bell said. "Guys are jelling along and as a group, guys get more confidence as that's happening when you score points and you're stopping guys. Everything that you're calling you feel like it's working and that's because guys are on the details, doing things they're asked to do the time they're asked to do it. It's been good here the past couple weeks, but we have to continue to make it better."
See Best Photos from Friday's Practice