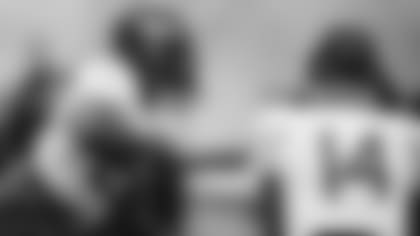 Sam Darnold's return to the lineup from mono won't fix all of the Jets' offensive struggles, but RB Le'Veon Bell believes Darnold's presence both on and off the field can inject a spark into the team's vein.
"He helps tremendously, he's the quarterback," Bell said. "He's the guy that's really going to touch the ball every play, get guys in position, just throwing the ball downfield, getting the playmakers the ball. It's going to be fun. He's going to make his fair share of plays and it's going to be fun."
The second-year signal-caller hasn't played since Week 1 when he completed 28-of-41 for 175 yards and threw for one touchdown in the team's 17-16 defeat. Sunday against the Cowboys, the 22-year-old QB will make his 15th NFL start and it will be the first time in 2019 that he'll play a game at full health. After being diagnosed with mono two days after the season-opening loss to the Bills, Darnold said he didn't feel 100% against Buffalo.
"We still haven't seen everything he can do yet," Bell said. "He's still a young player and he's only going to continue to get better. I'm just ready for him to get into the game and make some plays. That's what he does. He's a special player. I've seen it all throughout camp, the preseason, the first game. It's going to be fun."
Darnold's returns to practice on a limited basis last week provided a glimmer of hope that he would play last Sunday against the Eagles, but the Green & White knew their QB's status was uncertain. The 2018 No. 3 overall pick was unable to clear the final medical hurdle until this past Tuesday and fully returned to practice Wednesday, ditching the red non-contact jersey.
"Him just getting back in the huddle, even just calling plays in practice, just hearing his voice, getting that normal cadence that everybody is normally used to hearing, it's like, 'Oh yeah. Sam's back. We're ready,' " Bell said. "I made a post about him being back on Instagram and nobody is more excited than me, to be honest with you. Not the coaches, not the fans, nobody. I'm ready for him to be back."
The Jets have struggled to move the ball without Darnold as the unit averaged 165 yards per contest in the three games he missed. Bell was the team's workhorse in that timespan, most recently accounting for 88 of the Green & White's 128 total yards in Week 5. While Darnold can mask some of the offense's problems, the unit needs to improve as a whole from the offensive line to the playmakers surrounding the 6'3", 225-pound QB.
"Obviously everyone still has to play football, we can't just expect Sam to go out there and be Superman," Bell said. "We know he's a great player and he's going to make a lot of plays, but guys still have to do their job. We still have to protect him, make plays for him. He has to make sure he gets the calls in and everyone has to line up and make his job easier, so he doesn't have to think too much.
"He has to shake off a little rust because we're getting to the middle of the season and he hasn't really played the last three games. Plus we had the bye, so he hasn't been practicing, hasn't been hit."
See Best Images from Wednesday's Practice at 1 Jets Drive