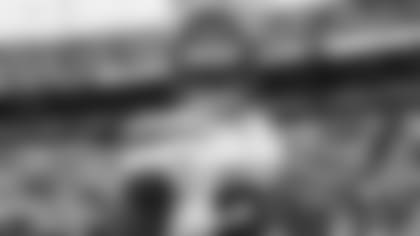 Jets RB Le'Veon Bell isn't accustomed to losing. The Steelers finished 53-27 from 2013-17 with Bell and their worst record was 8-8 in '13. The Jets finished 7-9 this year and won six of their final eight games, and Bell was the mainstay who preached patience during their 1-7 start.
"We were definitely on the rise when we should've been," he said. "We've been playing good football. I'm glad that we got the win against a divisional opponent too. It's something to build on."
Bell added: "We started to get this ship sailing in the right direction. I think we started to find our groove and find out exactly what our image is going to be. It took obviously multiple games to do that, but once we found it we've been playing good football and we've been winning games."
Bell's 311 total touches ranks eighth among RBs. He finished the year 24th in rushing yards per game (52.6) and No. 23 in rushing yards (789). He said this was a "different" season because he didn't break 1,000 yards and his 3.2 yards per carry is the lowest in his career. His 3 rushing TDs are also a career-low.
"It's disappointing," Bell said. "That's a marker (1,000 yards) that every running backs sets, but it didn't happen this year. I just have to work harder and get better for next year.
"I look forward to the offseason, and obviously getting better, getting in crazy shape and building on what we got."
Bell emphasized patience because it was the first year in Coach Adam Gase's system. The Jets turned a corner after their first eight games and finished the season one of eight teams in NFL history to finish 7-9 or better after a 1-7 start.
"Before this season, everything was kind of new," Bell said. "Everybody couldn't build off of anything. We had new coaches and new players and everything. I think next year the coaching staff will be back and a lot of players will be back. We knew how this year went and we will be able to build off our last couple of games the second half of the season."
Gase praised Bell Monday for his attitude throughout the season. The Jets dealt with a number of injuries on the offensive line more than any other position and Bell did what he was asked no matter the circumstance. Heading into Year 2 in green and white, Gase is developing a plan that will enhance Bell's play.
"That was a conversation we had a couple of weeks ago," Gase said. "We talked about looking at some of the stuff they did in Pittsburgh and kind of talking about some of the things he's comfortable with in the run game. Especially early in the offseason, trying to focus on those type of runs and pass game. We both were like we'll be able to take a break and then we'll come back. We can really hone in on some of those things that maybe we missed or we did too much of that he wasn't really comfortable with. It's one of those things that allows us to evaluate what we did as an offense and then I can go back to him and we can kind of talk about all that stuff when we get back in the spring."
Top Images of the Jets Packing Up Following the 2019 Season