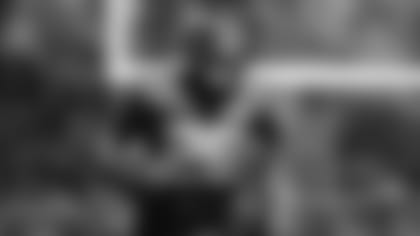 Whether on the field, making music or addressing the media, Jets running back Le'Veon Bell typically radiates positive energy. But after a gut-wrenching season-opening loss to the Bills, Bell sang a different tune Wednesday.
"It's very important. We're obviously off to a rocky start right now, so we at least want to break even. It's a good opportunity to do that on Monday night," said Bell of the Jets' Week 2 matchup. He later added, "I think every game is a must-win game, but obviously this game holds a lot of weight to it. There's going to be a lot of people watching the game, so I definitely feel that way."
Despite showing little rust in his return to the field with 92 yards from scrimmage on 23 touches, the sixth-year veteran is looking for offensive improvements in Week 2 as the unit put up eight points and 223 yards in 11 possessions in the opener.
"We all have to get better. It's not just Sam (Darnold)," Bell said. "I think as an offense, we're all going to bounce back and get better because we can't put it all on Sam. Sam did what he could, but it was all of us.
"We didn't come out feeling good, we obviously lost the game. We want to get better. We came and watched the film, we had a good practice today. We're going to get after it."
Head coach Adam Gase said the entire team is frustrated from top to bottom. Gase, who wishes he could've done a few things differently in his Jets debut, said he was impressed with the way his team responded after watching the film Monday.
"Those guys did a good job at trying to listen on what was being said," he said. "Take the notes down, make sure that they're trying not to make the same mistake again because we have to learn from every experience. We have to hyperdrive all of this stuff as far as minimizing mistakes.
"It's not easy after a loss. It's not easy to handle any kind of criticism, it's a lot easier after a win. When you have to fix things after a win, you can say whatever you want and nobody cares because you won. But after a loss it's just everything's magnified."
Bell had a three-word response on if one game impacts the confidence of the team — "Not at all" — since he's focused on three letters — W-I-N.
"We want to go out there and win. Week 1 we didn't play nearly well enough," he said. "We had a lot of mistakes. We want to make sure that we continue to get better each and every week. We let one slip through the cracks. If we would've come out on top, we would've came in like, 'Man, I'm glad we came through with a win,' but we still wouldn't have been satisfied with the way the film looked.
"That loss can really help us in a way and have guys feel that sense of urgency about mistakes and not get complacent or satisfied about things. We're going to keep moving forward and worry about Monday night."