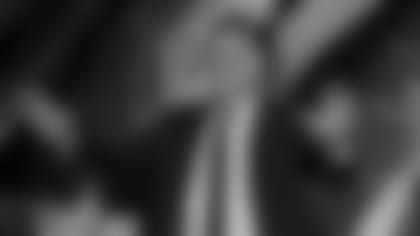 Kevin Mawae continues to pass several milestones on his journey to enshrinement in the Pro Football Hall of Fame on Aug. 3. The Jets' legendary center recently donated more than 200 items from his career and life to the Hall, which in its mission to "honor the heroes of the game, preserve its history, promote its values and celebrate excellence everywhere" will curate his artifacts for current and future generations of Jets and NFL fans.
"Our collection of items represents a lifetime of football and a love of the game that means so much to our family," Mawae has said. "From the first season of flag football at 8 years old to the end of my NFL career, this collection is a chance for me to share my journey and the privilege to be in the Hall of Fame."
The list of items that Mawae has donated to the Hall include:
■ His No. 68 jersey that he wore during the Jets' preseason game against the Tampa Bay Buccaneers on Aug. 2, 2003 in Tokyo, Japan. That game opened up the NFL's 84th season along with the Hall of Fame Game in Canton. Mawae was named to his fifth consecutive Pro Bowl at the end of that season.
■ A gameball he was awarded by the Jets after the game at St. Louis in which fellow Pro Football Hall of Famer Curtis Martin ultimately won the 2004 NFL rushing title with 1,697 yards.
■ A laminated, handwritten list of Pro Football Hall of Famers who played center, noting the years they played, length of career and year of induction. The list served as inspiration to Mawae throughout his NFL career.
■ His game-worn LSU helmet. He was a four-year starter for the Tigers and earned several Southeastern Conference and All-American honors.
■ A fragment in the shape of a cross from the World Trade Center after the Sept. 11, 2001 terrorist attacks.
■ An NFL Players Association cigar box presented to Mawae as the Jets team representative.
One more artifact was a poem that Mawae used to hang in his locker that served as more motivation for his soon-to-be-Hall-worthy career. It reads:
Success is a peace of mind which is a direct result of self-satisfaction in knowing that you did your best to become the best you are capable of being.
Talent is God-given; be humble.
Fame is man-given; be thankful.
Conceit is self-given; be careful.
Remember this is your lifetime though tomorrow there will be more to do...
And failure awaits for all who stay with some success made yesterday...
Tomorrow you must try more and even harder than before.
Many of these artifacts and more will be showcased in the Class of 2019 Locker Exhibit, which is slated to open early this summer. Great seats are still available for the kickoff of the NFL's 100th season in Canton, including the Aug. 3 enshrinement ceremony, at ProFootballHOF.com/Tickets.