Hey, Jets fans, it's Kelly here from the Flight Crew!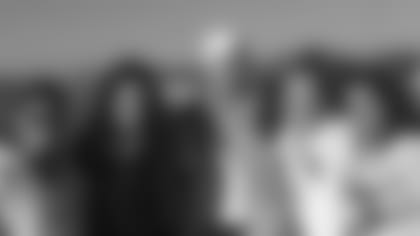 My first year to what will hopefully be a long journey on the Flight Crew has been the absolute most amazing experience of my life. I feel as if I've gained forty other sisters and one huge Jets family! This has not been just a blessing to me, but to my family as well.
Growing up, my family and I have always been crazy Jets fans, and for my mom, my being a part of the Flight Crew has become one of her dreams come true, just as it is mine. This month, as we all know, is Breast Cancer Awareness Month and I'd like to share what my experience has been like growing up with a mother who's had several types of cancer, including breast cancer twice. Although it has been tough and some might say this was something negative that happened to our family, we believe, as my mom has taught me, this is a positive experience.
My mom has always been a very strong woman and she is still fighting and staying positive because it has worked in her favor, time and time again. Just so you know, you've probably already met my mom. She comes to every single game and she has never missed one of my dance performances. You think I'm a professional cheerleader? You should meet the lady who's been cheering me on for what is now nineteen years. She is always dressed in her "Flight Crew Mom" jersey, with any bit of pink she can wear underneath so my girlfriends on the team and I always know where she is in the stands.
Well, as a girl who has been admiring the Flight Crew for years now, after seeing the pink that they wear during October, I have been so excited to finally get my pink on! At the Breast Cancer Awareness game vs. the Miami Dolphins two Monday nights ago, I was so happy to be wearing my pink belt and pink jersey and shaking my pink poms in honor of my mom.
I peeked at my mom during our first-quarter dance and gave her a big smile and I realized she was wearing pink football gloves and after the game she had told me that number 82, Matthew Mulligan, pointed her out in the stands and gave her his gloves. It just goes to show that once you're a Jet, you're always a Jet. Whether you're a player, news reporter, cheerleader, or even a fan, you are part of a tremendous family.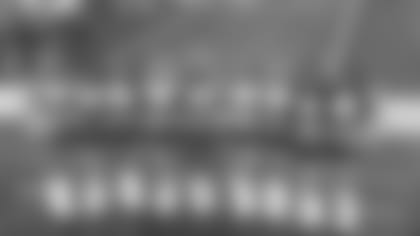 Matthew didn't know it, but what he had done that day meant the world to my family. It is that kind of compassion that makes me so proud to be a part of the Jets family. My mom is such a strong woman and some of you may ask, isn't it embarrassing to have your mom with you everywhere and screaming your name? My answer is no, because I am blessed to have her be there to watch my dreams become real-life experiences. (Plus my family just loves embarrassing each other. It's too much fun. Haha.)
Thank you, fans, for being a part of what is becoming the most memorable time in my life! See you at the game!