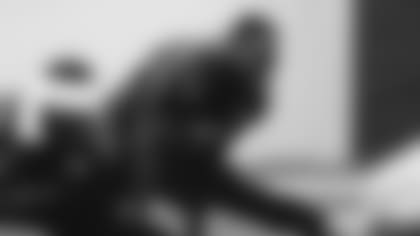 Kelechi Osemele is equal parts dangerous bear and teddy bear. He owns an engaging smile and infectious laugh and yet the film shows a ruthless animal searching for its prey. Instead of going into hibernation this winter, Osemele went to work on his body as his environment was flipped from the West Coast to the East Coast.
The Jets acquired Osemele in March from the Raiders in a trade that included a swap of draft picks. Osemele was already working on a new him before changing addresses, transitioning to a low-carb, high-fat diet that put his body into a metabolic state of ketosis.
"I did the ketogenic diet," he said during the Green & White's recent voluntary minicamp. "I also did some intermittent fasting just to lean out and give myself the best possible chance to be in great shape and prevent injuries and stuff like that. Obviously that's an anti-inflammatory diet in general, so that's what I did."
Osemele, an Iowa State product who was a second-round pick of the Ravens in the 2012 NFL Draft, played in B-More from 2012-15 before signing a free agent deal with the Raiders and spending the past three seasons in Oaktown. He was a Pro Bowler in 2016 and '17, but toe and knee injuries limited him to 11 games last season. He is entering Year 8 and will reach an age milestone on June 24th, so the bear decided to change his lifestyle.
"Just turning 30 coming up this summer, so longevity," he said of the diet and weight loss. "Taking some of that weight off the joints."
Osemele, who used to be a regular in the 325-330 pound range, played at 317 last year and told reporters he is a hair under 314 this spring. No matter the weight, Osemele has always been a tenacious blocker who loves to engage from whistle to whistle.
"He is a guy that you need up front," said NFL Network's Brian Baldinger of Osemele. "You need one of these guys up front that sets the tone. He is going to set the tone in practice and in the games, and he's a very skilled player."
A native of Houston, Osemele traveled to Hong Kong and Japan this offseason and posted social highlights along the way. He is an adventurous sort who has taken to his new teammates and his new city.
"It's been good, going out with the guys and grabbing dinner and stuff like that with the girlfriends and learning the new plays," he said. "Just like moving to any town but a lot bigger city obviously. But it's been cool, been exploring a little bit and getting my bearings. It's been nice."
After James Carpenter manned the Jets' left guard spot for four years, Osemele will take over on a line that will remain intact elsewhere. He has already declared that he will be quarterback Sam Darnold's new bodyguard.
"People person, he works the locker room well, smart, has a lot of the intangibles," Osemele said of Darnold. "Being able to make plays outside the pocket and scramble — I like an athletic quarterback, so I like to see that. But so far, so good. And from what I'm hearing from everybody, he's learning fast and he's continuing to develop, so I'm excited about it."
The bear is in a happy place, but soon it will be time for combat. After all, he once said, "They call me 'KO' for a reason." He doesn't want to get in your way as much as he wants to punish you. The Raiders shipped the bear away and while he is enjoying his new environment, he remembers that he was discarded.
"I'm a chip on the shoulder type of guy, so obviously that's motivation," he said. "I'm a professional and I've been in this business for a while, so I understand it from that point. But I like to take things like that and use it as motivation because it's fuel. Why wouldn't you? Obviously I'm motivated by that."
The Jets will host the Raiders in Week 12 just a few days before Thanksgiving. The bear is not known to be a social creature in the fall and Osemele will fight throughout the upcoming campaign.
"I'm looking forward to it just as I'm looking forward to any game on the schedule," he said of the Raiders' visit. "One game at a time. I'm not looking past anybody, but yeah, it's motivation playing against the old guys and in front of the coaches again. It's always going to get you going."