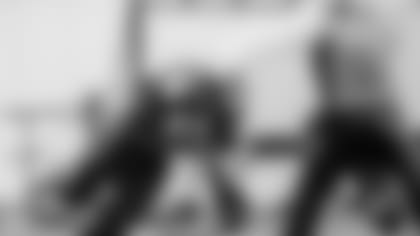 Jets outside linebacker Jordan Jenkins believes he had too many close, but no cigar moments as a pass rusher in 2017. This year, he plans to acquaint opposition quarterbacks with the turf once he latches on to them.
"The goal for the position group and myself is to really take advantage when we beat guys," Jenkins said. "We actually beat a lot of people last year. There were times where we would capitalize on the play, but a lot more times where we didn't take advantage when we had the opportunity to make a big play.
"There's at least four or five sacks that I should've had when I got my hands on the quarterback. I had [Jay] Cutler wrapped up twice, but couldn't bring him down. I had Tyrod [Taylor] wrapped up twice, but couldn't bring him down. I screwed the pooch against Drew Brees. There are a lot of opportunities like that where we have to take the next step and capitalize. When you beat the offensive tackle, you have to get to the quarterback. There's no hesitation and that's what we have to eliminate this year."
The Georgia product, who recently received a Bachelor degree in business administration, tallied three sacks and finished third on the team with 18 quarterback hits last season. Throughout the spring, the 6'3", 259-pounder said the outside 'backers' focus was on closing speed.
"That's something we're putting a little bit more emphasis on when we're doing drills," Jenkins said. "How fast can we get to the quarterback after we beat a guy around the corner? After we make a move on a guy, it's how fast can you get to the quarterback. Those are some of the things we've been focusing on in our position room. Closing the distance and not thinking the job is over when you beat the tackle, it's actually finishing the play."
Despite numbers that may not pop off the page, Jenkins took a step forward in his sophomore season and outside linebackers coach Kevin Greene shared a similar sentiment. Greene hopes Jenkins, along with the rest of the unit, continue to further their understanding of schemes and concepts in order to "hit the ground rolling" in training camp. But for Jenkins in particular, the key to his progress is simple.
"I think he just stays the course," Greene said. "He has some athletic ability to him. His work ethic is good, he's a student of the game and I think this is his second year of implementing some of the techniques and fundamentals that I'm teaching him. He's going to be a lot better at it, so he just needs to stay the course and I think he's going to be fine."