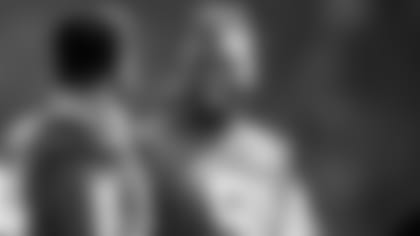 Throughout his early tenure as the head coach of the Jets, Robert Saleh has stressed the importance of competition up and down the roster. In that forest of competition, however, has quickly emerged an encouraging exchange of information among players.
After practice on Monday at the Atlantic Health Jets Training Center, defensive lineman John Franklin-Myers was effusive in praise of his teammates on the D-Line, but took special note of the suggestions and advice from the other side of scrimmage -- from offensive lineman Morgan Moses, who was signed recently in free agency.
"Talk about a guy who's played a lot of football, some great football," JMF said. "He gets me better. We spoke about it, literally in the middle of team. He said 'Check out when you're doing X, Y, Z.' I didn't even know I was doing the same thing. In the middle, the guy I go against every day, speaks volume of his character. He said that if you get 10 sacks you make us all better. He told me that if he knows what I'm doing each play then he doesn't get better. He's played a lot of football in the NFL and nything he tells me, I'm a sponge. Making those corrections immediately to make me better."
Franklin-Myers said that he's been going to school working with the likes of Carl Lawson, Sheldon Rankins, Foley Fatukasi, Nathan Shepherd, Vinny Curry and others. And with more than two dozen defensive lineman currently in camp, the competition is fierce. That was one goal set in the offseason by general manager Joe Douglas and Saleh.
"You can never have too many," Saleh said, referring to offensive and defensive linemen. Addressing the role of the D-Line, he said: "When you look at the quarterback position as being the most important out there, the scheme can get him off his rocker, off his game. But when you start to bring pressure and try to trick the quarterback, the really great ones will make you pay in a really, really bad way. The only position that can really affect the quarterback without doing goofy stuff is the defensive line. Winning one on one, get in the face of the quarterback and making life hell."
JFM was drafted by the Rams in 2018 and played in 16 games as a rookie. After playing in Super Bowl LIII and recording a sack against Tom Brady and the Patriots, he was waived by Los Angeles before the start of the 2019 season. Claimed off waivers by the Jets, he spent the lion's share of the season on injured reserve. In the 2020 season, Franklin-Myers, 24, put up the best numbers of his professional career. In 15 games (2 starts) he logged 3 sacks, had 13 QB hits, 19 tackles (8 solo) and recovered 2 fumbles.
Now in a new defensive system, the 4-3, he said it feels like it's "night and day."
"I enjoyed last year, it was probably the best year of my career," he said. "But this [defense] is more simple -- line up and go get the football. No reading. No false steps. This attack front fits me and a lot of guys here. It's why we'll continue to get better."
He said that the head coach has brought "energy that is infectious" and Franklin-Myers has enjoyed working with defensive coordinator Jeff Ulbrich and defensive line coach Aaron Whitecotton.
"They [the coaches] do a good job bringing energy every day," he said. "We enjoy this. While we're not doing anything we're talking about it, we live it. It's just different. I've enjoyed this so much and it's great that we all want to talk about it."
Speaking specifically about Saleh, he said: "He comes in the room and just jumps at you. You see his smile and his determination, not just speaking to us. When he captures every eye you can hear a pin drop. It shows what kind of leader he is. He demands respect and we have no choice. We like being led. I look forward to playing for him."
As the pads came on for the first time during Tuesday's practice, Franklin-Myers said it's "just another day, we're going to attack and hit people."
"We all know [the defense] goes as the D-line goes," JFM said. "We preach that and live that. In practice we set the tempo. In games we set the tempo."