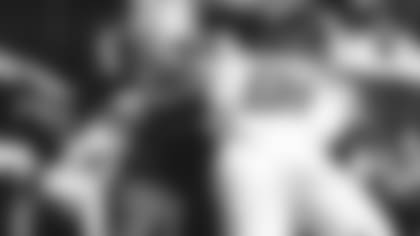 Up on the podium, hands on the lectern and a wide grin stretching across his face, John Franklin-Myers was having fun, reveling in the media spotlight for however long reporters lobbed questions his way.
Asked if he smiles as much on the field as he was during the interview, he said: "This is a great opportunity. I have to have fun with it, everyone doesn't get this opportunity."
In every sense, Franklin-Myers, 24, is taking advantage of his unique opportunity with the Jets. He has emerged as an important player on defense in the Jets' 4-3 scheme, an outside rusher who can also work inside, plucked off the waiver wire by the Jets in 2019 after he was cut by the Rams.
He has gone from a depth player last year to one of the straws stirring the Jets' defense. Through the first two weeks of the 2021 NFL season, JFM -- a fourth-round draft pick out of Stephen F. Austin -- has an 81.4 grade from Pro Football Focus, which is the highest among any Jets player.
"I'm getting an opportunity and they [the coaching staff] are doing a good job putting me in a good position," he said. "I'm playing with some guys who are making routine plays. Really, anybody would do well playing with these guys."
With much of the early defensive focus on the Jets' young, emerging cornerbacks; the spirited return of linebacker C.J. Mosley; and expectations on the D-line focused on Quinnen Williams and Sheldon Rankins; JFM has seemingly flown under the radar. But that perception is likely to change, especially after he notched sacks in each of the first two games this season. JFM also is among a group of three players (Chandler Jones and Nick Bosa are the other two) this season to record two or more sacks, two or more tackles for loss and a forced fumble through the first two weeks of the season.
"He's one of those guys that there's been times in his career where he majored as an outside rusher, there's times in his career where he was primarily an inside rusher," defensive coordinator Jeff Ulbrich said. "I think the best way to utilize his skillset is a little bit of both, and that's what we're trying to feature with him. When he has an opportunity to do a little bit of both, he's very dynamic in that way, because he's got maybe a little bit more power than a traditional edge guy, so he can overwhelm a tackle in some ways. But then he's got more speed and quickness, change of direction than some of the insiders, so he can be a mismatch for guards too. So, I think the more we can utilize and the more we can take advantage of his versatility, the better. I would anticipate him having a really good year for us, a career year for himself."
Last week against New England, the defense kept the Jets in the game until late and they are one of nine units to have 10 QB hits and 10 TFLs.
"I like this defense because we're just going to hit somebody," JFM said. "Sometimes in the NFL a lot of defenses have you playing gaps. In this defense you just run in a straight line and hit somebody. For each and every play we know what blocks we're getting and it makes it easier to set the edge, run straight through this dude and knock him back."
Franklin-Myers had a strong 2020 season, earning a grade of 71.5 from PFF, which was 35th out of 126 qualified interior defensive linemen. He also finished second on the team, to Williams, with 13 QB hits, in addition to his 3 sacks.
For a D-lineman like JFM, who came out of a small college program at Stephen F. Austin in Texas, landed on the Rams in a season that ended at the Super Bowl (with a JFM sack of Tom Brady) was a big step up. Though he was surprised when Los Angeles dropped him, Franklin-Myers said he learned a lot.
"In the NFLPA game, I got a chance to play against bigger guys from bigger schools," he said, skipping over an impressive performance at the NFL Combine. "Then I went to the Rams and got the chance to play with Aaron Donald and Ndamukong Suh. You're talking about some true vets, guys who would do anything for rookies. Those guys are great people on and off the field and they helped me a lot."
Now, with the Jets, JFM said that he's been comparing notes with another veteran lineman, Sheldon Rankins, who signed in free agency with the Green & White.
The next challenge for Franklin-Myers and the Jets comes Sunday at Mile High Stadium against the 2-0 Denver Broncos, quarterback Teddy Bridgewater, and a robust rushing attack featuring Melvin Gordon and rookie Javonte Williams (a teammate of Jets' rookie RB Michael Carter at North Carolina).
"We just have to go out there and just play our brand of football," JMF said. "Nothing has changed for us. At the end of the day we're out here to do our job. I'm looking forward to the challenge."
Of course, JFM said it all with a smile.
See the Top Images from Thursday of Broncos Week at 1 Jets Drive