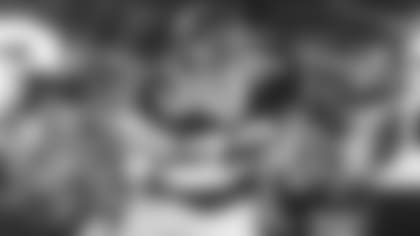 Dominant. Unique. Versatile. Consistent. Joe Klecko was all of that and more and some of the greatest who ever played the game of football have argued about his Hall of Fame worthiness for years.
"I think it's time for Joe Klecko to get that nod. I really believe that," said Hall of Famer Howie Long, a former Raiders defensive lineman who went to eight Pro Bowls, two years ago of the linchpin of the New York Jets Sack Exchange. "This is not something I've been saying over the last four or five years. It's something I said in the year 2000 when I was inducted. I am a big believer in his impact on the game, and that he was dominant, and that he did it at three different positions is pretty remarkable."
Klecko was the first defensive player in NFL history to be selected to the Pro Bowl at three different positions: defensive end (1981), defensive tackle (1983-84) and nose tackle (1985). He is the only player in NFL history to be named first-team All-Pro by the Associated Press at two different positions and not be in the Pro Football Hall of Fame.
"I think it would be an honor for the Hall of Fame," said former Patriots guard John Hannah, arguably the top guard in history, of a Klecko induction. "I know it would be nice for Joe, but I think not having Joe in the Hall of Fame is really kind of a slur against the Hall of Fame."
Klecko was an extraordinary performer who excelled regardless whether he lined up as a defensive end or a defensive tackle, in a 3-4 or a 4-3 front. In 1981, he was named Sports Illustrated's NFL Player of the Year after leading the league and setting a club record with 20.5 sacks.
"It just speaks to the diversity and the speed that he had," said Hannah, a 10-time first-team All-Pro from 1976-85. "A defensive end, you don't have to have the strength so to speak at defensive end that you have to have at tackle. It's more of a speed position because you're relying on them to get that upfield pass rush, contain that quarterback, keep him in the pocket and then get to him. It just speaks to the overall athletic ability that Joe had."
According to the NFL, Klecko is listed as only having 24.0 sacks in his career. Sacks didn't become an official statistic until 1982, so Klecko's 50.5 sacks over his first five seasons are nowhere to be found.
"I played against Joe Klecko several times," said former Bengals LT Anthony Muñoz, an 11-time Pro Bowler who was inducted into the Hall in 1998. "To me, in my humble opinion, he is one of the best and should be in. The Hall of Fame would be in a lot better standing with a guy like Joe in it."
But pass rushing prowess was just part of his game. He was a monster against the run, taking on multiple blockers before making the tackle himself or paving a clear lane for his linebackers to the ball carrier. Along with his feats at end and tackle, Klecko moved to nose tackle in a 3-4 front in 1985 and started 16 games before earning the rare Pro Bowl trifecta.
"I thought the real intricacy of Joe's game and the technique and the pre-snap get-off and all of those things played more of a role when Joe went in over the guard as a defensive tackle and particularly over the nose," Long said. "And I took a lot of the nose stuff, as I did with Joe Greene."
A sixth-round pick of the Jets in the 1977 NFL Draft, the Temple product suited up for the Green & White in 11 seasons and was a four-time Pro Bowl selection and two-time first-team All-Pro. He was a culture-changer when you consider the Jets hadn't finished over. 500 in the seven seasons prior to his arrival before making postseason trips in 1981, '82, '85 and '86.
"You watched him and were amazed by the way he played the game," said Hall of Fame C Dwight Stephenson, a former Dolphin who received his Gold Jacket in 1998. "He was a dominating and devastating lineman. He really was. No one played the game better than him. Joe Klecko hands down needs to be in the Hall of Fame."
Joe DeLamielleure, a six-time All-Pro selection who was inducted into the Hall in 2003, was a tenacious run blocker who rarely yielded ground in pass protection while playing with the Bills and the Browns. DeLamielleure said Klecko was as good as two of the top defensive linemen in history.
"I had Joe Greene and Merlin Olsen. I put Joe right in there with him." DeLamielleure said. "He was a great player. The difference between Joe and all the players you played against, he never took a playoff off. Ever. It was all-out."
After playing 141 regular-season games and five playoff contests for the Jets between 1977-87, Klecko made his mark on the Colts while finishing his career with a 15-game stint in 1988.
"I'm not sure this should be a retirement as much as it should be an ascension to the Hall of Fame," said Colts owner Jim Irsay, who was the team's GM in 1988. "He only spent a year here, but his influence has rubbed off on some of our younger players."
That ascension surprisingly has been blocked for decades. But in conjunction with the NFL's 100th anniversary celebration, the Hall of Fame has agreed in principle to move forward a special class of inductees. And maybe with an extraordinary class, Joe Klecko will finally take his place with the game's immortals once and for all.