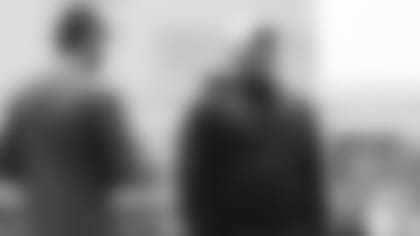 While viewed as unconventional to many, the hiring of Joe Douglas last June gave the Jets general manager time to put his processes in place and has afforded him the ability to hit the ground running this offseason.
"There are a lot of needs that we are going to be attacking," Douglas said during a recent appearance on ESPN NY's The Michael Kay Show. "We're going to look at every avenue to do it whether it's free agency, whether it's the XFL, pro scouting, whether it's the college draft. We are going to improve multiple positions."
Last week, Douglas and his personnel staff met with Adam Gase's coaching staff to review every player on the roster. But even before that personnel meeting took place, Douglas had a positive discussion with two-time Team MVP and first-team All-Pro Jamal Adams. After fielding inquiries on Adams prior to October's trade deadline, Douglas has reiterated how much Adams is valued internally.
"We had a great conversation after the trade deadline, we had an unbelievable conversation last week in the exit meetings and I firmly believe everything is in the rearview mirror," Douglas said. "We're just looking forward and we're excited that he's part of this team… He was one of our better pass rushers. He was all over the field. He's an unbelievable player and we're so excited he's a Jet."
The 24-year-old Adams, a three-year veteran who set the single-season franchise record for sacks by a defensive back with 6.5, and the rest of the 2017 NFL Draft class are now eligible to negotiate new deals according to the league's CBA. Douglas has declined to discuss contract specifics regarding any players, but he has gushed about Adams and also praised one of the team's offensive stars. Le'Veon Bell, who rushed for 789 yards and averaged a career-low 3.2 YPC in his first year with the Green & White, talked about having patience with the process throughout the 2019 campaign.
"My interactions with Lev have been all positive and the interactions between him and (Coach) Gase that I've seen have all been positive," Douglas said. "Le'Veon is a very good player. Le'Veon had a very good preseason. Now he didn't play any preseason games, but we saw him at practice every day. Obviously the production of our offense as a whole wasn't good enough, especially early in the season. But we value Le'Veon and we value the competitor and we value the teammate, so we're excited for him being in our program another year, going through an offseason again."
Douglas insisted that the Jets' 6-2 finish to the season was "no fluke" and he has stressed that he wants to create the best culture in professional sports.
"We want to get this thing to where it should be, competing for Super Bowls every year," he said on TMKS. "I don't want to sit here and put a timetable on it. I don't think that's the right thing to do. All I can do is promise the fans that we are going to work relentlessly to improve not only the talent on this team, but the makeup and the character on this team. We want the finish to this year to be a launch pad for next year moving forward."
When the playoffs commenced last weekend, the competitive Douglas felt a bit uneasy. An owner of three championship rings, he used wrestling as a distraction and went back into the archives. To get his mind right, the 6'4", 315-pound Douglas viewed The Undertaker make his debut at WWE's Survivor Series in 1990 with a smashing tombstone piledriver of Koko B. Ware.
"I got bored a little over the weekend. It's hateful when you're not playing," he said. "There are only four teams that enjoy not playing this weekend and that's the four teams that have a bye. Anyway I got bored and I went back and watched The Undertaker's first match."