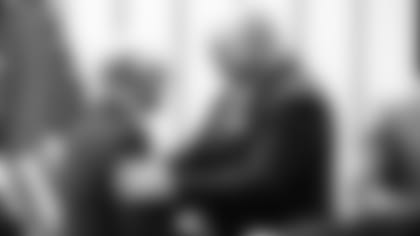 In agreeing to the framework of a trade with the Packers that will bring future Hall of Fame QB Aaron Rodgers to the Jets, the picture has changed for the Green & White's draft, but not much.
General manager Joe Douglas now has five picks to operate with – Round 1, Round 2, Round 4 and two in Round 5 – after having six before the deal. Most notably, the teams swapped first-round picks in the NFL Draft, which begins on Thursday, moving the Jets from No. 13 to No. 15.
"In terms of the mechanics of adding that to the deal,that's probably one of the last things that was agreed to in the deal," Douglas said. "We had 13 players we're really excited about. Now we have to have 15 players that we're really excited about and I feel comfortable that we have that."
Assistant GM Rex Hogan added: "No true effect. Our board still says the same. We'll continue to follow along the process we've built the roster. It gives us some flexibility to go whichever direction we want with the players that are available."
At the beginning of Douglas' and Hogan's annual pre-draft press conference, Kyle Stickles, the Make-A-Wish recipient who will announce the team's first-round pick, offered his two cents on the Jets draft.
"I mean we definitely don't need a quarterback," said Stickles, who received a diagnosis of bone cancer in his left tibia in 2020 and is able to walk again after chemotherapy that lasted until 2021. "I'd say the team sort of builds around the offensive line and defensive line, so maybe a guy like Paris Johnson (Ohio State) or Broderick Jones (Georgia) to build around the O-line."
Spoken like a true Jet, Kyle.
Douglas and Hogan nodded in approval of Stickles' assessment before providing their thoughts.
Hogan said of the tackle class: "Not specifically to any players, but it's a solid group with some of the guys who have been projected up the first round but throughout the draft. There's good volume of players throughout."
Douglas said the team's philosophy on adding O-linemen has not changed.
"It's never going to stop being that way here," he said. "I think we have a really good culture in place on this team and there's a standard in terms of the effort, strain and violence needs to play with. We're going to take every opportunity that we can to add those types of players when they become available. I don't think I'm ever going to sit here and tell you I'm satisfied with where we are with the offensive and defensive line. I don't think I'm ever going to say that because I feel like we're always going to be able to get a little bit better. It's always going to be a strong focus for us."
This is an exciting time for the Jets. Rodgers is set to become take over under center for a team that has impressive young talent – including the offensive and defensive rookie of the year in WR Garrett Wilson and CB Sauce Gardner from last year's draft. But last year's draft is just that for Douglas – in the past.
"Our focus is moving forward and we appreciate everything that happened last year, but we know we have a big challenge coming up in a few days and we need to keep adding the right type of people, character to this team," he said.