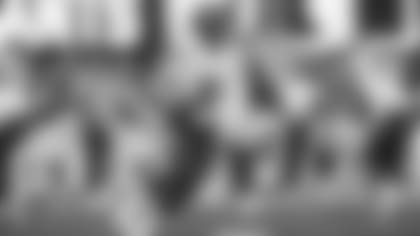 Jets rookie QB Zach Wilson led two efficient drives in his first NFL action in the Jets' preseason opener against the Giants on Saturday night. Mike White relieved Wilson in the second quarter.
"I thought it was good," Wilson said. "Of course, there are still things to clean up. It was a great experience. I really enjoyed having that game-like setting, the introduction to the NFL and the whole game. It's great for everybody no matter how much football you played. It was awesome just to be able to get out there and do that."
After the Green & White defense forced the Giants to a three-and-out on their opening drive, Wilson and the offense jogged out onto the field at MetLife Stadium with the support from Jets fans despite being the "visiting team." The unit took over on its own 36-yard line and leaned on the run throughout the drive as Wilson orchestrated a 12-play, 52-yard drive. It ended with K Chris Naggar converting a 30-yard field goal for a 3-0 lead.
On the drive, Ty Johnson and rookie Michael Carter combined for 34 yards on 7 carries (4.9 avg) and, when called, Wilson delivered quickly and accurately. Wilson and WR Corey Davis, who's quickly become one of Wilson's favorite targets in training camp, connected twice for 18 yards. They, however, failed to convert on third-and-4 in the red zone.
The offense's second drive relied on Wilson's arm a little more than its first. The No. 2 overall pick delivered a fastball to Keelan Cole over the middle to convert on third-and-9. Two plays later, Wilson found Vyncint Smith for 12 yards. Even though the possession stalled as Johnson couldn't convert on fourth-and-1, it was an encouraging drive for the rookie signal-caller.
"I felt comfortable," Wilson said. "I know the guys around us felt comfortable. I think our coaches prepared us for it. I think we felt good going out there."
Wilson showed a good command of the offense, velocity on his passes and good decision making in both possessions. He finished his first preseason action -- 22 plays -- completing 6 of 9 passes (66.7%) for 63 yards and an 86.8 rating.
"We have so much confidence in the young man," head coach Robert Saleh said. "You want him to stack up as many good days as possible, but there's still youth, he's still a rookie. There are going to be a lot of opportunities for him to grow. Even in this game, even though he looked comfortable ... the young man's potential is through the roof, but there are still going to be things he can learn off of."
Wilson's next game is next Saturday, Aug. 21, against the Packers at Lambeau Field in Green Bay, WI. The teams will hold joint practices Aug. 18-19.