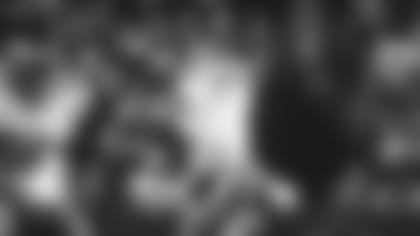 On Monday, Jets HC Robert Saleh confirmed that Tim Boyle will start at quarterback Friday against the Miami Dolphins. Trevor Siemian will serve as Boyle's primary backup and third-year signal-caller Zach Wilson, who took over for Aaron Rodgers 4 offensive snaps into the 2023 season, will shift to the team's No. 3 spot.
After starting 4-3, the Jets have dropped their last three games including Sunday's 32-6 defeat aBuffalo. The Jets have been limited to 2 offensive touchdowns the past four games as injuries have mounted up front along the offensive line. The offense ranks 30th overall (270.3 yds/g), 30th in scoring (15 pts/g) and 32nd on third-downconversions(22.9%).
Wilson was pulled late in the third quarter Sunday after hitting on 7-of-15 passes with 1 TD and 1 INT.
"It essentially comes down to you have to score points," Wilson said following the loss. "So, when things aren't getting done, change has to be made, and I understand that."
Wilson was sacked 5 times against the Bills and has been sacked 24 times the past five contests. The Jets totaled 155 yards against Buffalo and didn't convert a third down on 11 tries.
"Like I said, it's been all the way across the board," Saleh said. "We have made a lot of changes, tried to go a little bit younger so we have addressed the running back room, the receiver room, the tight end room. We moved the coordinator to the [press] box. Obviously, Zach, it's not all him, but there are some things that he needs to be better at and this is just another situation to see if we can give another guy an opportunity, see if something can change."
In his third season, Wilson has completed 59.2% of his passes with 6 TDs and 7 INTs. The intention of having Wilson study behindAaron Rodgers ended when the four-time NFL MVP went down with a torn Achilles tendon against the Bills in Week 1.
"He never really got to sit back and absorb and get that redshirt year that you would have love to have given him," Saleh said. "You can always play the hindsight 20/20 game, but we felt like we did what was best for the organization and best for the team. It has been an unfortunate series of events when you look at all the injures on the o-line (offensive line) and things that have transpired since the start of the year."
Wilson, selected No. 2 overall by the Jets out of BYU in the 2021 NFL Draft, has an 11-20 mark as a starter in 32 career games. He's connected on 56.6% of his throws with 21 TDs and 25 INTs.
"I wouldn't look at it as a failure," Saleh said of Wilson's tenure to date. "I look at it as more of a series of unfortunate events. I stand strong on the belief that Zach is going to have a really good career in this league. He has got tremendous work ethic — he has gotten a lot better over the course of the last year. He definitely has the arm talent, he just turned 24. He has a positive outlook, and he just needs to continue to focus on his game and find ways to get better and continue to learn about fronts and coverages and how to play the game a little bit faster. I still believe he is going to have a good career."
With his focus on another AFC East foe, Saleh declined to discuss Wilson's future with the organization.
"We'll deal with it in the offseason," Saleh said. "Right now, it really is just about Miami."