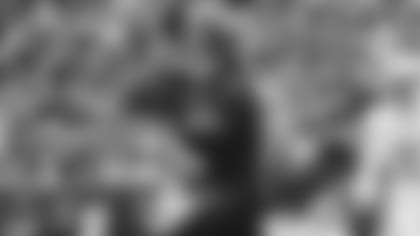 Robby Anderson found his groove and rolled with it in the Jets' 22-21 victory over the Dolphins at MetLife Stadium on Sunday. For the second consecutive week, the 6-3, 190-pound wide receiver surpassed 100 yards.
"I just feel like I'm really getting into a zone right now," Anderson said. "Me and Sam [Darnold] are really connecting right now. We're just taking practice to the game and it feels good out there."
After a slow start and with the Jets trailing, 3-0, Anderson and Darnold gave the offense a spark early in the second quarter when they connected for the game's first touchdown. Anderson, a Temple product in his fourth season in the NFL, finished the game with 7 receptions for 116 yards and 1 TD, and also rushed for 4 yards. Sunday's performance was the third time this season that Anderson has had at least 100 yards receiving.
"Robby has always been great," Darnold said. "There are some games obviously where the numbers aren't as big, or he's not highlighted on the stat sheet. But for Robby, that's because sometimes he gets cloud coverage, where a team is putting safeties over the top of him, like they did a couple of times today. For us, when Robby is rolling, he is a really good asset, but when there are times that he's not, that's usually when other guys step up."
Similar to last season, the chemistry between Darnold and Anderson is growing stronger in the season's latter stage. Three of the Anderson's 4 TDs this year have come in Weeks 11-14. In 2018, 3 of his 6 TDs came in Weeks 14-16. For Anderson, a consistent approach has yielded results.
"It was pretty much what we do on the regular, which is to be prepared to win a game by playing all three phases of the game," Anderson said. "But I think it's to a point of him [Darnold] just trusting me and being comfortable, and then it's me feeling like he's going to give me the opportunity."
With more than 300 receiving yards and 2 TDs in the last three games, Anderson is showing his competitive edge as the final stretch of the season rolls on.
"He's been super aggressive with the ball, not waiting on it and going to get it," Coach Gase said of Anderson. "We had those couple of drives where we didn't get anything going. They were playing a ton of man and I could hear him say, 'You've got to get me the ball here pretty soon.'"
In the final seconds and with the offense prepared to complete a drive that would set up K Sam Ficken for the game-winning FG, the message inside the huddle was clear.
"Just take it one play at a time," Anderson said. "Don't do too much, just do what you've got to do as an individual and it will all come together."