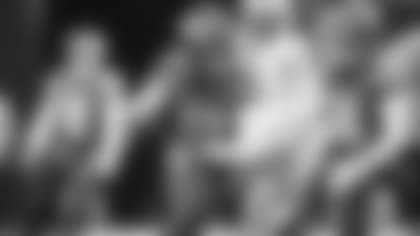 While the Jets offense created several explosive plays in the pass game Sunday against the Lions, they were unable to consistently move the ball and were held to 17 points in a three-point loss to the Lions at MetLife Stadium.
In his first start since Week 11, QB Zach Wilson completed 7 passes for 20-plus yards including plays of 33, 40 and 50 yards in the first half.
"We had a ton of explosives, but we got to put drives together," Wilson said. "I think at one point I saw we had nine completions for a crap ton of yards, which is great. Explosives win you games, but you know you got to just be able to just kind of pick apart of defense and sustained drives be ahead of the sticks."
At the beginning of the second quarter, the Jets had their first explosive of the game as the Jets' second-year signal rolled to his right and hit WR Garrett Wilson for 33 yards. On the next play, Wilson set himself after rolling to his left and threw across the field to TE C.J. Uzomah for a 40-yard touchdown. The grab was Uzomah's first score as a Jet and the longest TD reception by a Jets tight end since 2009.
To start the Jets' next drive, Wilson connected with WR Elijah Moore for a 21-yard completion – Wilson's third consecutive completion for 20-plus yards. The Jets moved the ball to the Detroit 33, but Wilson was called for intentional grounding and then was sacked as a promising march led to a Braden Mann punt. Mann punted six times and Wilson was intercepted once as the Green & White were held at bay by a Lions defense that entered 31st in scoring (26.7 pts/g).
"It's a culmination of a lot of things, I think," Uzomah said of the inconsistency. "When we look at that tape, there will be one person doing something wrong when we faltered. … Those are just the things that we cannot have happen. We have to go out there and play damn near perfect for us to come away with a win."
Already down Corey Davis (concussion), the Jets lost WR Denzel Mims due to a head injury he sustained in the first quarter. With 32 seconds remaining in the first half, Jeff Smith hauled in a 50-yard reception from Wilson that set up a 34-yard field goal by K Greg Zuerlein, tying the game at 10. Smith finished with a season-high 4 receptions for 77 yards.
"I'm just a speed guy," Smith said. "On that play, I was able to run fast and then Zach threw a good ball to where I could go up and get it."
In the third quarter, the Jets offense totaled 48 yards and 0 points. Trailing 13-10 with 7:15 remaining in the game, Garrett Wilson was able to fight through interference and haul in a 33-yard grab. Five plays later, Zach Wilson flipped a pass to Uzomah for a 1-yard touchdown to give the Jets a 17-13 lead.
On the ensuing Jets' drive, with 1:22 remaining, Garrett Wilson made a 22-yard catch to convert a third and 19. Wilson finished with 4 receptions for 98 yards – his sixth game with at least 90 yards receiving.
In the final seconds, Moore had a 20-yard reception that led to a 58-yard field goal attempt by Zuerlein. But the kick was pushed wide left, and the Jets dropped a third consecutive game. Moore had 4 receptions for 51 yards.
"We left some plays out there and that's just the reality of it," said Garrett Wilson.
See the best images from the Week 15 matchup between the Jets and Lions.