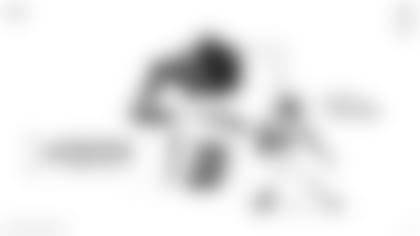 Jets WR Garrett Wilson was named the NFL's Pepsi Zero Sugar Rookie of the Week for Week 2 after helping to lift the Jets to a 31-30 victory over Cleveland.
Wilson (6-0, 192) caught a 15-yard touchdown from QB Joe Flacco with :22 seconds remaining in the fourth quarter to give the Green & White its first lead of the season and first victory, last Sunday. Wilson is one of 23 rookies since 2000 to score a game-winning touchdown in the last :30 seconds of the fourth quarter.
In total, the No. 10 pick in April's NFL Draft made 8 catches for 102 yards and 2 touchdowns, the first Jets rookie to notch 100 receiving yards and 2 TDs in one game in franchise history and the 16th youngest player (22 years, 57 days) in the last 25 seasons.
"It is just executing the same plays we would hit on earlier in the game," Wilson said about the game-winning touchdown. "We got the same end of the field, and they ended up giving us the same look right there. Just taking advantage, if they give something up on the field, you have to take advantage. Especially that time of the game."
Wilson delivered in critical moments catching two passes on the final drive and converting three third downs in the game.
"He is a dynamic football player," head coach Robert Saleh said after the game. "We all know that. He is still trying to find his footing. The sky is the limit. I thought he did a really nice job today. Obviously, he has a couple things that he needs to clean up, especially there in the fourth quarter, but again he showed resolve. He got that big touchdown at the end. He's going to be a stud for a long time."
Flacco targeted Wilson a team-high 14 times. Since 2000, Wilson is one of 27 rookies with a 14+ targets in a game and one of seven to do it in the first two weeks of the season.
"I'm really happy for him, and a lot of the guys on our team," Flacco said. "We've known that the lights aren't too big for him, that he has already grown up and is capable of playing in this league. But, you really aren't going to have people be able to say that about you until you win football games. So, that is why winning is so big in this league. It just cures all those things, all the issues you have. No matter how the outcome or how this game turned out, those things are all true. But nobody cares, and rightfully so, that is why winning is so big."