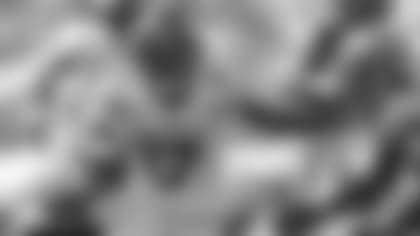 In the state where he had numerous memorable performances as a member of the Ohio State Buckeyes, rookie WR Garrett Wilson had his first big game for the Jets on Sunday at Cleveland. Wilson tagged the Browns for 8 catches, 102 yards and 2 touchdowns – including a score with 22 seconds remaining to give New York a 31-30 victory.
"We were the only ones that thought we could do this," Wilson told Jets team reporter Caroline Hendershot after the game. "Especially when we were down, 30-17. That is a great team we just beat. We pulled through, and I am just excited."
Playing more than 140miles south of Ohio Stadium in Columbus, Wilson told reporters the week leading up to the game that he would have about 25 friends and family members in attendance. And approximately two hours north of where he wore scarlet and grey, he stood out again, but in green and white.
"The air here is different, I said that all throughout the week," Wilson said. "And I came in expecting to make some plays and I am just blessed. I am blessed. And I have my family here and I'm just so blessed. Excited."
After limited action in the first half of the Week 1 game against Baltimore – 1 catch for 9 yards – Jets OC Mike LaFleur and QB Joe Flacco (who finished with 307 yards and 4 TDs against the Browns) got Wilson involved early. Wilson was targeted 7 times and ran the ball once in the first half. He caught 3 passes for 25 yards including a 2-yard TD on a fade route that tied the score, 7-7. That was his first NFL score.
The targets kept up into the second half – 3 in third quarter – before a scary helmet-first hit to Wilson's lower back on a leaping catch attempt with 8:33 left in the third. Wilson stayed down for moment, but returned later in the quarter and caught back-to-back first-down passes.
On a near-perfect day, Wilson made one error. Wide open in the middle of the field, he dropped a first down pass on third down with 7:54 left in the fourth.
He immediately walked off the field and unbuckled the straps from his helmet in frustration. The Browns scored on the next possession to go up by 30-17 with 1:55 left. Wilson's drop might have ended the Jets' chances, but RB Michael Carter and QB Joe Flacco had not lost faith.
"I am super proud of him, he was being really hard on himself when he dropped that third-and-long [pass] and I told him to chill bro, it is not that serious," Carter said. "I love that he has that dog in him.
"Everyone up and down the sideline was telling him to get back and that he was going to do his thing and that we were going to come back to you … and the coolest thing was Joe Flacco came over to him and said no words to him, just dapped him up and that meant the world to him."
The Jets conjured magic with no timeouts. WR Corey Davis caught a 66-yard touchdown and CB Justin Hardee recovered an onside kick to re-open the door for Wilson to make his final mark Sunday.
On the game-winning drive, Wilson caught 2 passes in the red zone. First, a 12-yard first-down grab over the middle to the 15 yard-line, and two plays later, he ran quickly found the hole in the defense, caught a pass in between defenders and walked into the end zone.
"Honestly, I could not believe it," Wilson said. "I could not believe that they left the middle a little bit. I just wanted to get in there as soon as possible, make a play and Joe saw me. Joe was special today and it was just a special environment out here."