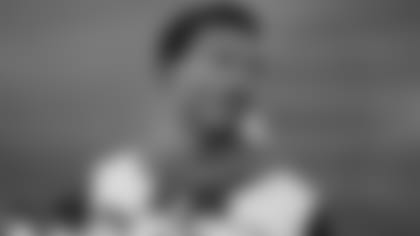 Even though Jets WR Demaryius Thomas is coming off a season-ending Achilles injury and is currently nursing a tweaked hamstring, the 31-year-old is confident he'll be able to produce for his new club.
"I'm a little older now, but I still got it," he said.
Thomas is no spring chicken but was productive in 2018 before he was shelved, totaling 677 yards and five touchdowns on 59 receptions between the Broncos and Texans. And in his lone preseason action this summer, he reeled in seven passes for 87 yards and two scores.
"I think I have a lot left," he said. "Going into last year, I changed up a lot of things and I noticed throughout the year, it wasn't the right thing to do. I had lost a lot of weight and then I got traded, learned a new system in Houston and then came up with the Achilles. It was a lot that year, but I still can play ball."
Reunited with head coach Adam Gase, Thomas wasn't as surprised as most by a rare Jets-Patriots trade.
"They say it'll never happen, but I knew Adam Gase was over here," said Thomas, who played under Gase from 2010-2014 with the Broncos. "It was kind of up in the air. It was kind of surprising."
Gase was Thomas' WRs coach from 2010, when he was drafted in the first round, to 2012 and his offensive coordinator from 2013-2014. The duo was prolific as the 6'3", 225-pounder recorded 351 catches for 5,317 yards and 41 touchdowns in five seasons together. Despite four years apart, Thomas is quickly readjusting to his new/old system.
"It's easy," he said. "I played in the offense about four or five years, so some of the stuff in the playbook I've been seeing, I kind of remember it. It's coming back quick.
"It's small things that he added, that he switched up from what we used to call it formation-wise, but it's pretty much kind of the same, minus the small things that he added."
Thomas has not yet practiced in his new colors as he's recovering from a hamstring injury suffered in his first regular-season practice with the Patriots, but his goal is to play Monday. Gase hopes to have his new receiver and old friend on the field Saturday in preparation for Week 2. 
"I like what our guys (training staff) do with soft tissue stuff, so I'm trying to buy as much time as possible," Gase said. "With us practicing today, kind of having that recovery day tomorrow and then Saturday being a Friday, that's a lot of time for a professional athlete."