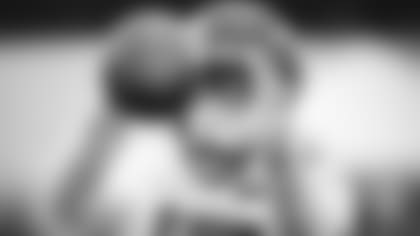 Chris Hogan might be a seasoned veteran, but he is approaching his new start with the Jets like the undrafted free agent he is out of Monmouth University who is going to do everything he can to make a favorable impression.
"This is a new team," Hogan said on Thursday. "These guys might know my name and they might have played against me. Whatever they think about me — I still have something to prove to these guys. This is a whole new group of guys that I've never been around. And for me, every single day, all I really want to do is show them I'm going to show up to work every single day and I'm going to work as hard as I can."
Hogan, a 6-1, 210-pounder in his eighth NFL season, went through COVID-19 testing early this week and then passed his physical on Tuesday. He was on the practice field the past two days and made a couple of catches in team drills Thursday morning, including a scoring reception in the back of the end zone from Mike White.
"These are live reps," said Hogan, who has averaged 13.3 yards on his 202 regular-season receptions, and 15.9 yards on his 34 postseason grabs. "That's how I'm approaching it — I think that's how a lot of guys should approach it. When we put these pads on, these are game reps because there aren't going to be reps in the preseason, and the first time that we are in live action is going to be the first game of the season. We don't really have room for those mental errors that we can make in the preseason and then correct."
Both Jets' wide receiver coaches, Shawn Jefferson and Hines Ward, lauded Hogan's professionalism. Hogan, who averaged 37 receptions and 505 yards from 2014-18, appeared in only seven games with Carolina last season because of a left knee injury.
"He knows how to get himself in shape and knows what it takes to be able to be able to play in this league for a long time," Ward said. "I love the leadership that he provides our room because he's out there helping the young guys like hey man, we have to pick it up, or I need to push myself to do better and better each day. The leadership aspect with somebody who's been there and done that — that's what I like about Chris Hogan."
The Jets signed Hogan this week after their WR group was hit with early camp injuries. Vyncint Smith is expected to miss 5-to-8 weeks after core surgery and rookie Denzel Mims, a second-round pick from Baylor, has been unable to practice because of a tight hamstring.
"He's been in the fire before," Jefferson said of Hogan. "He's been in the fire and he's got some stuff in his neck, too, so that's the thing I really like about him."
Raised in Wyckoff, NJ, Hogan played both football and lacrosse at Ramapo HS. He went to Penn State on a lacrosse scholarship and was voted first-team All-ECAC his senior season. After graduating in 2010, he enrolled at Monmouth and played QB, WR and CB for the Hawks before embarking on his professional football career. And after suiting up in game action for the Bills (2013-15), the Patriots (2016-18) and the Panthers (2019), Hogan will have the opportunity to again call New Jersey home during the season.
"I think my wife and kids are more excited about it," Hogan said. "We lived apart during the year for the last 10 years. I've put my family all over the map and we've dealt with it and handled it very well. But for me to be able to be so close to home on a team that I watched growing up — big fan of the history here and Joe [Namath] and Wayne Chrebet is obviously always someone I've looked up to and admired when I started playing this game."
Thankful for another opportunity here with the Jets, Hogan acknowledged he was angry and frustrated after he got injured last season in Carolina and finished with just 7 receptions. He got back to work as soon as the offseason began and then waited during the pandemic for his next chance.
"I had that drive, I had that hunger," Hogan said. "That's something that I never lost, but maybe there was something there that I needed to find again. But I think I found it and I'm just excited to be out there every day."
It was in 2012 when Hogan was at Dolphins training camp and Reggie Bush remarked that the Hogan was open all the time and dubbed Hogan 7-Eleven. The nickname stuck and Jets Coach Adam Gase has already referred to the veteran receiver by his moniker.
"I tell people, if they're still calling me 7-11, I still have a job," Hogan said. "If they stop calling me that, I might not be in the league anymore."