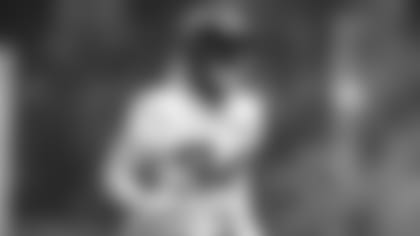 What's New?
It will take some time adjusting to the Jets wide receiver corps this summer. GM Joe Douglas vastly improved the group in the offseason with the free-agency signings of Corey Davis (TEN) and Keelan Cole (JAX), plus the selection of Ole Miss standout Elijah Moore in the second round of the NFL Draft. Davis, the No. 5 overall pick in 2017, had 984 yards receiving last season in Tennessee while averaging 15.1 yards/catch with 5 TDs. Much like Denzel Mims (6-3, 207), Davis (6-3, 209) is a big-bodied receiver with a large catch radius who uses his physicality to get to contested balls.
"I do consider myself Wide Receiver 1 [because of] my ability to get open, my speed, separation," Davis said. "I feel like I can do it all. I feel like I'm a 1,000-yard receiver. It's up to me to put in the work to make sure I'm healthy and play a full season."
In two of his final three seasons in Tennessee, Davis finished with 65 catches. Last season with the Jaguars, Cole (6-1, 194) quietly produced 55 receptions, 642 receiving yards and 5 TDs. He offers interesting position flexibility with the ability to win in the slot and move outside. The already improved group, which will be coached by Garfield, NJ, native Miles Austin III, got significantly better draft weekend.
Player to Watch
The Jets didn't think they had a chance to get Moore at No. 34 overall. When he was available, it was an easy call. Moore (5-9, 185) is an artist and his canvas is the football field. In eight games last season, Moore led all of college football in catches (10.75) and receiving yards (149.1) per game.
"I feel like I understand the craft," Moore said after being drafted. "I feel like football and being a receiver is more than catching the ball and just running. I feel like you have to understand what you're doing and the art of getting open. I take pride in it."
Although he'll be listed as a receiver, the Jets think Moore will be a Swiss Army knife for the offense.
"He can be in the backfield," Head Coach Robert Saleh said. "He can get those jet sweeps. He can play the X [outside receiver]. He can take the top off of the coverage. He's dynamic in that you can do a lot of different things with him.
"He's dynamic. When he gets the ball in his hands, he becomes something different. His ability to separate on routes, run the jet sweeps, come out of the backfield — he's extremely versatile."
Key Question(s)
On paper, this is the best wide-receiving group the Jets have had in a long time. There is intriguing depth and pieces, plus young talent at the top. Davis (26), Mims (23) and Moore (21) are ascending performers who should benefit from a more traditional offseason. Mims, a second-round pick from Baylor in 2020, flashed down the stretch and averaged 15.5 yards/catch despite essentially not having an offseason as a rookie due to hamstring issues. Last season, the Jets two top receivers in terms of catches were primary slot players in Jamison Crowder (59-699-11.9-6TD) and Braxton Berrios (37-394-10.7-3TD). The Jets are better equipped to deal with absences in 2021 because this suddenly is a deep group. How will all the pieces fit in Mike LaFleur's new offense that could start a rookie QB in Week 1 in Zach Wilson?Davis will benefit from his experience in the system because Mike LaFleur's older brother, Matt, was the Titans OC in 2018. Also how will the slot reps shake out with Crowder, Berrios, Cole and Moore in a crowded middle?
See the Jets WRs Leading Up to the 2021 Season