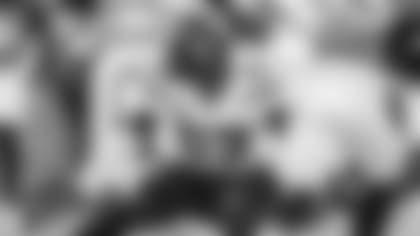 If ever there was a play that symbolizes everything the Jets want to be defensively, it occurred last Sunday in Denver. Broncos RB Melvin Gordon appeared to have a cutback lane open to the end zone when linebacker C.J. Mosley delivered one of the most devastating hits you will ever see. With great speed matched by violent intention, Mosley gave people a reminder why he earned the nickname "half man, half amazing" early in his pro career.
When asked about the hit, Mosley said: "It's been a while since I've had a big play that can make a little splash on the internet particularly the one from the @UKNYJETS on Twitter. The voiceover at the end was pretty cool. On top of that, I have a lot of respect for the Broncos especially Melvin Gordon. He's a great running back. We had a lot of great battles when he was with the Chargers and I was with the Ravens, so a lot of respect for him. He got his touchdown back on the one I missed by the goal line. If we face each other again, we have to meet up again."
Gordon did slip through Mosley's grasp on 1-yard TD in the second quarter, but Mosley is back again thumping at a feverish pace. The defensive captain leads the Jets in tackles (24) and he's recorded 10 tackles in each of the team's last two games. On Sunday afternoon at MetLife Stadium, Mosley (6-2, 231) will man the middle of a stout defense that will contend with the NFL's best running back, the Titans' Derrick Henry (6-3, 247).
"He's very unique," Mosley said of Henry, who is leading the league in rushing after capturing the past two rushing titles. "He's bigger than most people on the football field, so he's a smart runner, powerful guy. A lot of respect for him, obviously. One of my (former) Alabama teammates, but we have to do a great job collectively of getting him down. We all know the stiff arm is coming, so our guys on the edge, our DBs, when and if he does break on the sideline, break on the field, having everybody run to the ball and trying to gang tackle. That's what it's all about on defense, everybody running to the ball."
Last season, Henry amassed 2,027 rush yards and 17 TDs on the ground. After a season-opening loss to the Cardinals, the Titans (2-1) rode Henry to reverse their fortunes. He had 35 carries for 182 yards in a comeback win over the Seahawks in Week 2 and then had 113 yards on 28 carries in Tennessee's Week 3 triumph over the Colts. Mosley and the Jets rank 10th overall defensively (328.3 Yds/G) and 14th against the run (110 Yds/G).
"We have to do a great job of setting our edges and fitting our gaps and being great tacklers, especially not letting the ball get to the second level and not letting runs go for explosives and keeping (QB Ryan) Tannehill contained," Mosley said. "When he doesn't get his read, he's looking to run the ball. Last week, we let a big third down get out on a scramble. We just have to take it one step at a time, eliminate the runs, handle the play-action passes and get after the quarterback."
Winning early downs will be imperative for a Jets defensive unit that ranks 4th on third-down (29.7%). The Titans, who could be without their top two wideouts in A.J. Brown and Julio Jones, are tied for 29th in sacks allowed (10.0).
"When we do our job on first and second downs, what we say around here is that we earned the right to rush the passer," Mosley said. "We earn the right to show our exotic blitzes, we earn the right to show different things, we earn the right to go get the ball and try to get after the quarterback. We definitely have to do that this week with a great run team that likes to throw the ball off their play-action as well. If we can get them in second- and third-and-long, that's definitely going to be in our favor. Do our best to keep Big Henry contained and then get after the quarterback when we can."
Still searching for their first win, complementary football has eluded the Jets. They are -5 in turnover differential (Tennessee is -6) and the defense has often had to rally when put in tough situations by an offense trying to find its rhythm with rookie QB Zach Wilson.
"When we step on the field, we look at that as an opportunity for us to get better," Mosley said. "We look at it as an opportunity for us to make plays and get our offense back on the field. When we step on the field, we can't be moping around, we can't be worrying about what's going on with this situation or that situation. We have to defend every blade of grass, we have to communicate and we have to come with the same intensity every single play."
After participating in parts of two games in 2019 and opting out of the 2020 season due to the coronavirus pandemic, many wondered what the return of Mosley would look like. And now as he prepares for the most physical running back in football, Mosley, a four-time second-team All Pro, is bringing the brutality while wearing a smile.
"People just forgot, but my game hasn't changed at all," he said. "Maybe the weight went down and maybe the scheme changed, but I am who I am. I've always been a sideline to sideline player. I pride myself on giving full out effort when I'm on the field, giving everything I have for my brothers behind me and my brothers on the sideline because I want that same kind of energy when they step out on the field. Every time I step on the field, I have to give everything I have especially after being out for two years. You really get to see what it's like without football. so why not have fun and give it all you got why you're here."