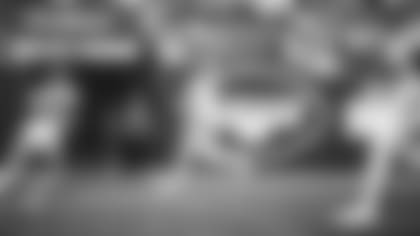 The Jets and the Titans gave everyone at MetLife Stadium a show Sunday and it was so good that the two teams took their battle into overtime.
It was a familiar script early at MetLife Stadium as the Jets defense kept the team afloat and Zach Wilson and the offense weren't able to establish an early rhythm. But that script was flipped in the second half as Wilson was high voltage late, throwing a pair of TD passes and making a few jaw-dropping plays as the Jets topped the Tennessee Titans, 27-24, in overtime.
Step Forward for Wilson
Zach Wilson was intercepted for the eighth time this season, but the rookie signal-caller took a leap Sunday. He protected the football (his 1 INT came in the second quarter following a Corey Davis slip on the turf), regularly dumped the ball down and reminded everyone why he was the No. 2 overall selection in April's NFL Draft with some huge plays down the field in the second half. He finished 21 of 34 for 297 yards and 2 TDs.
"It's like we talk about with these young kids," HC Robert Saleh said. "You get a little ball rolling, you get a little bit of confidence and it starts to snowball. He showed everything that we see in practice. We see it all. The kid was outstanding. There's still going to be things he knows he can clean up. He had a chance to end it in overtime, but the guy was resilient, he had resolve and he's a playmaker."
It began with the Jets down by 9-7 in third stanza. On a third-and-6 play from his 32, Wilson faced pressure up the middle and sprinted to his right with Titans DL Denico Autry in heavy pursuit. No matter, Wilson showcased his remarkable athleticism with a perfect 54-yard throw up the sideline to WR Keelan Cole. That strike set up Matt Ammendola's 27-yard chip shot and the Jets had their first lead of the season, 10-9, with seconds left in the third.
Then Wilson really showed something after the Titans answered on their ensuing drive and took a 17-10 lead. He got a 43-yard chunk courtesy of a pass interference penalty on a ball intended for Davis. Then he averted disaster and turned the play into treasure, recovering his own bobbled snap, bouncing around in the pocket and hitting Jamison Crowder for 29 yards. After a Ty Johnson run, Wilson sprinted right and hit Crowder for a TD, tying the score at 17.
He one-upped himself when he gave the Jets their second lead, rolling right and calling his shot. He calmly directed Davis to head upfield and then he unleashed a 53-yard scoring toss to Davis. The former Titans wideout hurt his former team, hauling in 4 passes for 111 yards with the 1 TD.
In OT, Wilson threw a beautiful touch ball to Keelan Cole for a 29-yard gain on 3rd-and-2 that put the Jets on the Titans' 27. Then he went to Crowder, who led the Green & White with 7 receptions (61 yards) in his season debut, for yet another third-down conversion. The Jets had to settle for an Ammendola field goal and that set the stage for a Titans' counter but Randy Bullock missed wide left from 49 yards out.
"It was awesome," Wilson said. "The ups and downs, it was a crazy win, but I had a chance there to end it sooner. What an awesome game. I'm so pumped we got away from it with a W, but we have to keep learning and keep getting better. It's awesome to keep learning from a win though."
He later added: "It's huge. It's confidence to let everybody know we're a good team and we can do really good things. It's going to be a process and we just have to keep stacking the blocks and keep getting better. You could definitely feel like the tension on the team fell off right there when we were able to do something on offense."
Defense Continues to Thrive
The Jets yielded 144 yards in the first half, but their defense kept the game close and gave their rookie QB and the offense time to find their footing. The Jets had 4 sacks and forced the Titans to go 0-of-3 in the red zone in the first two quarters.
Instead of a large deficit, the Green & White trailed by 9-7 at halftime as they limited the damage to three Bullock field goals. LB Quincy Williams' first career sack forced Bullock's 45-yard field goal and then backup C Aaron Brewer airmailed a snap to QB Ryan Tannehill, ending a threat that had reached the New York 11. DL John Franklin Myers, who has 3 sacks in four games, ended another scoring threat that had reached the New York 10-yard line.
"The defense has been spectacular all season," Saleh said. "Stats don't do justice what they've been able to accomplish at all three levels. The D-line was outstanding today, the linebackers were outstanding today, the young DBs, play after play and through all the adversity, call them what you will. We had that game over several times in regulation, but credit to them. We were fantastic."
C.J. Mosley got a wide open lane early when RB Derrick Henry, his former college teammate at Alabama, peaked outside and No. 57 ripped by him. The sack was Mosley's first with the Jets. Bryce Hall and Bryce Huff shared a QB takedown of Tannehill in the waning seconds of the second quarter, making it a four-pack. The Jets finished with 7 sacks and Quinnen Wiliams led the way with 2. Williams has racked up 3.5 sacks the past two games. This was a dominant showing by the defensive line as the Jets totaled 13 QB hits.
"It took a full-team effort," Mosley said. "We finally saw some complementary football with this team, so we put it on tape and now we have to bring that every week. We've been preparing the same way the last three weeks and on Sundays it hasn't went the way we want it to. We started off a little slow, but that's how football goes. ... Playing against a team that's going to run the ball, plus, a player like Derrick Henry, you can't look at the stats and get discouraged.
"You have to keep playing football and have to keep running, keep hitting and bringing it. They got us in the some the runs, but I think for the most part, we did a good job of trying to control the sticks on first and second down against the run. We had a few screens that kind of leaked out, but that's what we go to practice for. We're going to go in tomorrow and try to fix those things. We have a long trip across the pond next week, but we're going to enjoy this win."
First-Half Points
Through the first three games, the Jets had been outscored by 46-3 in the first half. And the Jets were outgained Sunday by 96-13 in the first quarter as Wilson and the offense managed one first down. Wilson shook off some bad luck after Davis slipped on his cut and the result was a Kristian Fulton INT. He rebounded on the ensuing possession, hitting on 5-of-7 passes for 60 yards. He converted a third-and-long to Davis and then went right back to him for a 30-yard catch-and-run. The 11-play, 75-yard possession culminated on rookie RB Michael Carter's 2-yard TD run, the first of his career.
Jetcetera
Other than WR Elijah Moore (concussion), WR Jeff Smith (concussion) and S Marcus Maye (ankle), who were announced out Friday, RB La'Mical Perine, CB Jason Pinnock and DL Tim Ward rounded out the inactives. … Rookie DT Jonathan Marshall made his Jets debut. … With Maye (ankle) out, Adrian Colbert and Jarrod Wilson started at S and Ashtyn Davis and Sharrod Neasman rotated series with them. … WR Keelan Cole started on the outside for Moore and Jamison Crowder made his regular-season debut. … CB Brandin Echols exited the game with a concussion after making a tackle on TE Tommy Hudson and Javelin Guidry took over on the outside. … CB Isaiah Dunn took his first snaps on defense and had a PD on third down in the fourth quarter. … CB Bryce Hall and LB Quincy Williams each had their first career sacks … RB Tevin Coleman returned to the lineup after he was out against the Broncos (non-COVID illness) but Michael Carter started in the backfield. … LB C.J. Mosley led the Jets with 13 tackles. It marks the first time in his career that Mosley has recorded three consecutive 10-tackle games. … RB Derrick Henry was fabulous in defeat for the Titans, rushing 33 times for 157 yards with 1 TD. Henry also picked up 20 yards on 2 receptions. … The Jets had 7 PDs of Ryan Tannehill with second-year CB Hall leading the way with 3.