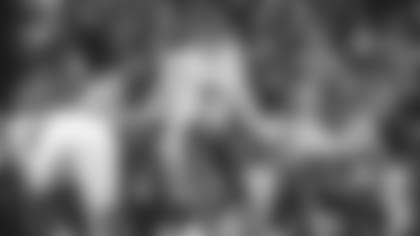 Tim Boyle was tuned in at the tailend of the third quarter when he saw head coach Robert Saleh speaking with Zach Wilson. 
"Real quick, he [Saleh] mentioned it to me, and I was in the game," Boyle said after Sunday's 32-6 loss to the Buffalo Bills at Highmark Stadium in Orchard Park, NY.
On his first series after replacing Wilson, Boyle converted on fourth down with a QB sneak. Then Boyle's first-down pass was caught, and fumbled by WR Garrett Wilson, squelching what had been a promising drive.
Boyle's evening of work ended late in the fourth quarter on another fourth-down attempt, fourth-and-5 from the Buffalo 49, when a Boyle pass intended for TE Tyler Conklin was intercepted with 2:36 to play.
"On the interception in the fourth, I had my eyes working to the left, trying to work G [G.Wilson]," Boyle said. "G was covered and a throw his way was not advantageous for G, so I saw Conk [TE Tyler Conklin]. He fought for it, I have to get it out because I'm not going to take a sack. Unfortunately, I forced it in there."
Boyle, 29, was 7 of 14 for 33 yards, he was also sacked once. Saleh, while acknowledging that Z.Wilson had a rough night said the issues on offense are shared by "everyone," adding that he and offensive coordinator will quickly assess which quarterback will start against the visiting, AFC East-leading Miami Dolphins on Black Friday.
"Tim came in and was decisive," Saleh said. "He got rid of the ball, did a good job. That fourth down at the end of the game was a bit of a force, but he gave someone a chance to make a catch. He did some good things."
Boyle, who grew up in Connecticut, was signed by the Jets in free agency in April. He spent a couple of seasons as Aaron Rodgers' backup with the Green Bay Packers, and had his most productive season as a professional with the Lions in 2021. In four games (three starts), Boyle was 61 of 94 (64.9%), 526 yards and 3 TDs. He was with the Bears last season.
"I do have to say this ... I'm extremely proud of Zach, how handled everything this year," Boyle said. "He's earned a lot of respect from me and the offense. My heart goes out to him. It's not a comfortable situation. He's been wonderful."
With little preparation since Z.Wilson, as the starter takes the majority of the snaps in practice, Boyle, like Z.Wilson, was playing behind the seventh different combination on the offensive line and fifth in five games with Chris Glaser coming in at RG, before losing LT Mekhi Becton to an ankle injury late in the first quarter. The O-line eventually included two rookies -- center Joe Tippmann and tackle Carter Warren.
Boyle said he tried to rely on his experience and instincts.
"You go into a game, it's pretty lopsided, and the mindset is to go in and get completions and run the offense," Boyle said. "I'd like a couple of balls I want back, but for not getting many reps I think I did a pretty good job. It was good to be out there, just unfortunate how things ended up.
"Part of my game is just being able to get the ball out takes pressure off the O-line. Knew they would bring some pressure my mindset get ball in our players hands and see what do."
He added: "I think part of strength is getting the ball out of my hands quick. Decisiveness, try to get the ball out, unfortunately part of the game is taking a sack. It's better than jamming it into coverage. Takes a lot of heat off the offensive line and gets playmakers the ball in space."
Saleh declined to name a starter for the Miami game without first reviewing the tape. 
"Everything is accelerated [this week]." he said. "We have Monday and Tuesday to dissect and breathe. We'll be pretty quick with this one."