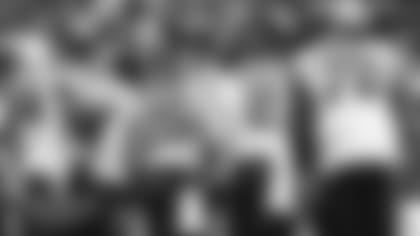 As the Jets (2-8) return to action against the Texans (2-8) following Thanksgiving Day, Jets head coach Robert Saleh is thankful for his new home, his new team and the return of his rookie QB to the lineup.
"We're glorified military, right, we've lived in Jacksonville [2014-16], Seattle [2011-13], Houston [2005-10], San Francisco [2017-20]," Saleh said this week of his wife, Sanaa, and family that has expanded to seven children. "And she's here and she's like, 'God, this is home, this is our forever home,' like this is where she wants to be. This is where she wants the kids to be raised. And she just absolutely loves it here.
"And you can feel the fan base is so ready to explode and have a team that it can be proud of on a week-in, week-out basis. And it's something that we're really excited to deliver on."
In his first season with the Green & White, Saleh began last week with a message to those fans desperate for a winner.
"I respect the heck out of the urgency from the fans and the wanting to flip this thing, but in fairness, this is the first time this fan base is actually experiencing something like this," he said. "Usually it's been a quick fix, followed by a scramble. This is an actual plan.
"I feel like Joe [Douglas] is doing a phenomenal job with a really, really concise plan on how to build from the ground up and there are a lot of exciting pieces on this team that are hidden in these losses."
After part of rebuilds in Houston, Seattle, Jacksonville and San Francisco, Saleh was disappointed by his team's latest outcome as self-inflicted wounds and wasted opportunities led to a 24-17 loss against the Dolphins in Week 11. But the patient teacher has not been shaken by growing pains.
"You have a nucleus of these young guys who are growing and doing things right away," he said. "So despite the record, and we all want to win, there are so many great things happening in this organization that it's going to be very explosive in the very near future."
Rookie QB Zach Wilson will make his seventh start to the season, in Houston, becoming the third different signal-caller to start for the Green & White in as many games.
"That's going be exciting for him to get back out there," Saleh said. "I know he's champing at the bit, he's been wanting to get up back out there. He's been waiting to get fully cleared and fully healthy. Monday was a good day for him with workouts and rehab and all that, and we got the thumbs up, and off we go."
The Jets offense has taken flight the past four games without Wilson, averaging 346.5 pass yards while playing three passers. Since Week 8, it's also ranked No. 1 in passing TDs (10) and passing first downs (74) in addition to ranking No. 9 in yards/attempt (7.61).
"The O-line and the receivers and tight ends and backs, they've all been able to take a step over the last month," Saleh said. "So just slide right in and utilize all that all that improvement that's been that's been happening around him and just deliver the ball to the playmakers like he knows how and watch his playmakers go make plays."
Wilson believes he was on a parallel path as his teammates when Patriots OLB Matthew Judon drove him to the turf in the second quarter of a loss to New England on Oct. 24. He sustained a PCL sprain and has been a spectator for the past month.
"I felt like I was on the same path when I had gotten injured," he said. "I felt like every single week, going back and watching every game, whether you see it or not in the stat line or in wins or whatever, just based on the progress of grading your decision making every single play, I felt like every single week was getting better. And you see it hitting with those guys too. Like their understanding how to play the NFL game, and they're going to be great one day in this league and they are right now. They're doing an awesome job."
With Mike White and Joe Flacco on the reserve/COVID-19 list, Josh Johnson is expected to be Wilson's backup vs. the Texans. Houston gives up yards (30th, 389.3 Yds/G0 and points (29th, 27.1 Pts/G), but the Texans are an opportunist defensive unit that had 5 takeaways in last Sunday's win over the Titans and are tied for fourth with 19 takeaways. While RB Michael Carter will miss time with a low-grade high-ankle sprain and WR Corey Davis is dealing with a groin injury, Wilson will work with one of the NFL's hottest players in Elijah Moore, who has 5 TDs in his last 5 games and receiving TDs in three consecutive games.
"I'm just excited," Wilson said. "Just that rush, that feeling you get just to be back on the field, it's exciting. Just happy to be back with the guys."
Saleh, who began his NFL coaching career with the Texans in 2005 as a defensive intern, continues to work on his forever home with the Jets and Wilson, the No. 2 overall selection in April's draft, is a critical piece of the foundation.
"He was getting better and we felt like he was about to go off in the New England game before he got hurt," Saleh said. "So you know pick up where he left off and just focus on the main thing, which is getting better and find ways to move the offense and score points."
See the Top Practice Images Leading Up to the Sunday's Game at Houston