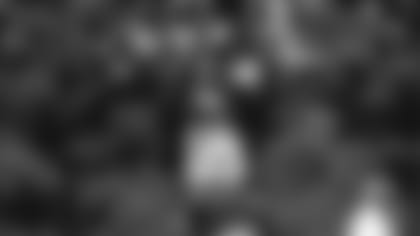 Even though the Jets have yet to put pads on in 2019, tight end Chris Herndon is already laying the groundwork to take a leap in Year 2.
"I think he's a more confident player," tight ends coach John Dunn said of Herndon. "Even from just getting here, before practicing and speaking with him and talking with him, just his confidence [is different]. He had a good year last year. And I think for him, the more he can understand defenses and not only what we're doing, but what the opposing team is doing, now he can maximize his skillset. So that's where I think he's taken his biggest leap."
Herndon had an impressive rookie season and emerged as one of quarterback Sam Darnold's go-to targets, ranking second on the team with 21 receptions on first down. The 2018 fourth-round pick finished second on the Green & White with 502 receiving yards, which also ranked second among rookie TEs, on a rookie-best 39 catches. He also had four touchdowns.
Entering 2019, Herndon feels more prepared to make an impact on Sundays because of his offseason work in which he focused on training, nutrition and, most of all, film study.
"I feel like it's very important," Herndon of the classroom. "You could have all the skill in the world, but if you don't know what to do, you're not really going to get much playing time. Period. Before you can get out there and make plays, you have to know where to be and that's probably the most important part. The athleticism and running comes easy."
At the Combine in February, head coach Adam Gase described the 6'4", 253-pounder as a "unicorn" and Dunn later explained that Gase meant Herndon is effective in all three phases necessary for tight ends — blocking in the run game, receiving in the pass game and protecting against the rush. And in his first action on the field in Gase's offense, Herndon flashed in the spring with a few highlight-reel catches.
"Chris' greatest attribute is that he has really strong hands," Dunn said. "He's like a basketball player. He uses his body well, he has strong hands and the more he understands not only what we're doing, but the game — the faster he'll play and the better he can become. I like his skillset."
After a few months in the new offense, Herndon is enjoying not only his role, which allows him a lot of freedom to work the middle of the field, but the entire system.
"Just from the jump, we're taking shots down the field, using everybody and everybody is getting a chance to touch the ball," he said. "You feel a different energy out there and we're just trying to keep this momentum that we have right now and let that carry into the next day, next camp and going into the season."