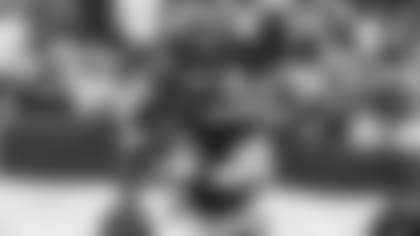 After a year away from the NFL, Le'Veon Bell signed with the Jets in March and had high expectations for himself and his new club. But while the Jets are 5-9 and Bell hasn't been able to produce the video-game-like numbers people have come accustomed to, the 27-year-old back has never lost his smile and his bounce. The playmaker will face off Sunday against a Pittsburgh Steelers club that drafted him and where he became one of the most productive and explosive players in football.
"I just try to go out there and play football," Bell said. "Each and every game I play, I try to give it my all. So I guess if I can find an extra squeeze in there, I'm going to try. But it is what it is with me — I'll always try to go out there and give it my best."
In five seasons in Pittsburgh, Bell became one of the most accomplished players in Steelers history. After electing not to sign Pittsburgh's franchise tag in 2018, Bell departed with the fourth-most rushing yards (5,336) and the second-most receiving yards (2,660) in team history among running backs. The three-time Pro Bowler and two-time first-team All-Pro became the fastest player in NFL history to reach 5,000 rushing yards and 2,500 receiving yards (59 games) and was a two-time Steelers MVP (2014 and 2016).
"We have to be ready to deal with the talents of Le'Veon Bell," said Bell's former boss, Pittsburgh Coach Mike Tomlin. "He has a complete game. He can run inside, he can run outside. He is a big-time inclusion in their passing game, whether it's out of the backfield, or whether they remove him from the backfield and he is route-running in empty sets and so forth. We have to minimize his impact in the game. When he is productive, they are a tough nut to crack."
In 13 games with the Green & White, Bell has averaged a career-low 3.3 yards per carry for an offense that ranks 31st on the ground (77.6 Yds/G). His 57 catches are second on the club and he continues to be a reliable threat out of the backfield.
"He's always positive," said Jets C Jonotthan Harrison. "That's the thing. I've been around some negative people and he's always positive: Win, lose or draw. He may rush for 30 yards and he still has something positive to say, so I can always respect that."
Bell leads the Jets with 1,080 yards from scrimmage, but most inches have been hard to come by. The Jets have started at least two players at every position along their offensive line and opposing defenses lined up to stack the box when Sam Darnold missed Weeks 2-4 with mono.
"We kind of lost a little bit of chemistry there from training camp," Coach Adam Gase said. "Once we got going into the season, we kind of had guys moving in and out. Losing Sam for three weeks, we kind of leaned on him [Bell] pretty heavily. Everything was on him to try to get us positive yards and first downs, so he took a pretty good pounding there for three weeks."
Last week against a stingy Ravens defense, Bell had a season-high 87 yards on the ground and his 21 carries tied his Jets high. His 4.1 YPC average far outdistanced the 3.3 YPC on the year.
"We're finding our base runs and packages and getting a full understanding of each other," Bell said. "I think we can definitely build upon it. That's what we're hoping to do."
Gase added: "I feel like the last few outings, it's looked more like we thought it was going to look like. It's hard to explain. When he's got stuff there, we're getting good yards. The last three games, he's taking what they're giving him. Instead of trying to create big plays, he's keeping us ahead of the sticks."
Bell ranks 10th among NFL backs in touches with 261 and 14th in carries with 204. But he is averaging only 52.0 Yds/G, which ranks 27th in the NFL. The 6-1, 225-pounder, who remains an outstanding blocker, is a tough, instinctive performer often seen encouraging his teammates on the sideline.
"He's a real good teammate,"Harrison said. "I love his running back presence, his running back knowledge. He's going to work. Every once in a while during the game or after the game, he'll come to us and say, 'You all blocked your tail off out there. You did a good job out there,' just talking with the O-line and you have to respect him."
Defensive tackle Steve McLendon, a teammate of Bell's in Pittsburgh from 2013-15, doesn't believe much will change for Bell on Sunday. He'll give his best against a Steelers defense that is strong across the board and has difference makers at all three levels.
"Great teammate," McLendon said. "It's nothing about a personal game for either one us ⁠— it's just about going out and getting the win. He's a great teammate. You know what you're going to get from him. He's going to play hard, he's going to play fast, he's an extremely smart player and his mind-set is still the same."
Bell isn't concerned about his stats and the doubters, insisting those who know the game continue to see what he brings to the table. He hasn't looked back since March, trying to help his new team find a way to become a consistent winner.
"I don't regret anything that happened," Bell said. "I'm happy where I am today. The way things are going, obviously it's not ideal with the way our record is and things like that. But like I said in Weeks 2 and 3 and before that, this is a stage where we're building. To be a part of it and to see it grow, that's what I wanted to do ultimately."
Bell hasn't thought much about the Steelers' playoff prospects. He simply wants to win and people closest to him are quick to remind others that the star running back still has it.
"He can do a lot of stuff," McLendon said. "All I tell people is just keep watching. He is still who he is and we know that."