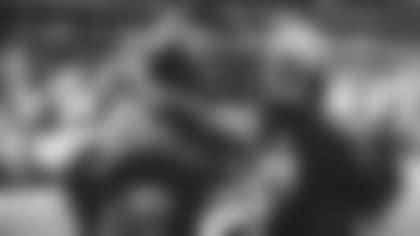 While HC Robert Saleh has continued to express the importance of keeping as much of the Jets' 2022 defense intact, there haves already been impressive additions to the Green & White during free agency.
The Jets traded for Ravens S Chuck Clark in exchange fora 2024 seventh-round draft pick. Clark played in every game last season and had 101 tackles, 4 passes defensed, 1 forced fumble and 1 fumble recovery. Clark was drafted by the Ravens in 2017 and has made four postseason appearances in his career.
"He's another one of those guys who just loves ball," Saleh said about Clark. "Eats it, lives it and has a tremendous mindset to him. He's just an incredible talent, a tackling machine, and he's getting into a safety room that we're really excited about. I think Jordan [Whitehead] is going to be a lot better playing in his second year in the system, and we've got some young guys with Ashtyn Davis and Tony Adams, so hopefully they'll take another jump. It's a really good group. He's going to add veteran leadership to that group, he's coming from a championship organization and brings that championship mindset and we'll see if we can grow off of it."
As far as key players coming back, LB Quincy Williams re-signed for a three-year deal. Last season, Williams totaled 106 tackles, 3 sacks and 12 TF and was a big part of the defense that made the jump from 32nd in yards allowed to 4th in 2022.
"Last year I thought he had a good year, I think it can be a heck of a lot better," Saleh said, referring to Williams' breakthrough 2022 season. "With his length, speed and violence I think he's top five in those three, you know, with regards to speed as a linebacker and the way he hits. I mean, it's like a freight train when he hits people. He erases a lot of issues because he's got so much speed and length and violence to his game. So we're excited to get him back, excited to continue to work with him, excited to get him to hone in on his skills, and he's only going to get better."
For other returners on defense, Saleh did not want to speak on GM Joe Douglas' behalf. He did, however, confirm that DE Carl Lawson would be on the team this coming season.
"I'll speak for Joe on this one," Saleh said. "You know, pass rushers, they don't grow on trees, and Carl has a commodity in this league that is gold. So, he will be here as long as he can walk, play, rush the passer, and affect that the way he does. He'll be here."