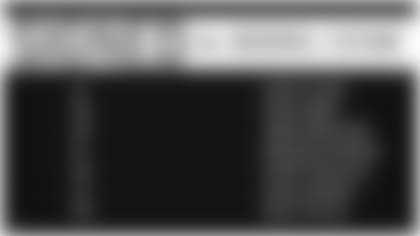 The Jets have signed seven players to reserve/future contracts.
OL Chris Glaser (6-4, 306)
Glaser signed with the Green & White on Aug. 9 after spending time with the Chiefs and was signed to the practice squad on Sept. 21. He was let go and re-signed on Oct. 19. He signed with Kansas City as an undrafted free agent out of Virginia in 2022.
DB Craig James (5-10, 195)
James spent the last three seasons with the Eagles, appearing in 18 games. He had 17 tackles, 1 pass defense and 1 fumble recovery on 83 snaps in two seasons with Philadelphia (2019-20). He also took 317 snaps on special teams. James first signed with the Vikings as an undrafted free agent out of Southern Illinois in 2018 and appeared in three games as a rookie. He began his college career at Minnesota before leading the Salukis with 3 interceptions and 9 pass defenses as a junior. He was named to the Missouri Valley Football Conference All-Newcomer team.
DB Jimmy Moreland (5-11, 182)
Moreland joined the Green & White practice squad in September after he was released by Philadelphia, where he had signed in May. He was drafted in the seventh round by Washington in 2019 out of James Madison. He spent two seasons there, tallying 86 tackles, 1 INT, 5 PD and 1 FF in 30 games (10 starts). Moreland then spent the 2021 season with Houston, appearing in seven games. He's taken 1,077 snaps on defense and another 331 on special teams.
DL Marquiss Spencer (6-4, 300)
Spencer first signed with the practice squad on Nov. 22 and was released on Nov. 28. He was drafted by the Broncos in the seventh round in 2021 out of Mississippi State. Spencer appeared in one game last season before signing a reserve/future contract in January. Denver waived him in August. He totaled 100 tackles, 23 TFL, 7 sacks and 1 INT for the Bulldogs in four seasons.
QB Chris Streveler (6-1, 216)
Streveler spent the summer with the Jets before signing with the practice squad. He played in two games this season and threw for 92 yards and 1 interception while completing 66.7% of his passes (10 of 15) against the Jaguars in Week 16. He also had 9 carries for 54 yards. Streveler was also elevated for the Week 8 game against the Patriots, but was inactive. He signed with the team on July 26 after a stint with the Cardinals in 2020. The former CFL Grey Cup champion played in seven games over two seasons with Arizona, throwing for 141 yards, 1 touchdown and 1 interception while completing 68% of his passes.
LB Chazz Surratt (6-2, 233)
Surratt signed with the P-squad on Sept. 1. He was Minnesota's third-round draft selection in 2021 out of North Carolina, where he was teammates of Jets' RB Michael Carter. He played nine games with the Vikings last season and took 98 special teams snaps.
WR Malik Taylor (6-1, 220)
Taylor, who signed to the Jets practice squad on Dec. 29, played in 25 games for the Packers from 2020-21 and had 7 receptions, 80 yards and 1 touchdown. He originally signed with the Buccaneers as an undrafted free agent out of Ferris State, but spent five days with Tampa Bay before joining Green Bay.