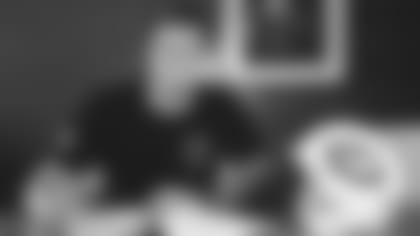 The Jets have signed quarterback Sam Darnold.
"We are very pleased to have Sam join the team," general manager Mike Maccagnan said. "This is what both sides wanted all along and we're eager to get Sam on the practice field while it's still early in training camp."
Taken with the No. 3 overall selection in April's draft, Darnold appeared in 27 games in 2016-17 for USC and recorded a 20-4 mark as a starter. A 65% passer, Darnold threw for 7,229 yards with 57 touchdowns and 22 interceptions. The 6'3", 225-pound Darnold passed for 4,143 yards last season with 26 touchdowns as USC won its first Pac-12 championship since 2008.
Learning a new offense verbiage along with communicating the plays in the huddle and taking snaps from under center, Darnold performed well throughout the spring.
"It's a pleasure to be signed now," he said immediately after inking his deal. "Very excited. Very special moment."
In order to get in position to draft Darnold, the Jets moved up three spots in the first round. Acquiring the Colts' third overall selection, the Green & White sent of a trio of second-round picks to Indianapolis. Darnold, who will start camp third on the depth chart, took snaps with the first-team offense in OTAs and minicamp.
"I'm going to come in here and work every single day," he said this spring. "I'm just going to work and grow to be the best quarterback I can be and help this team in any way."