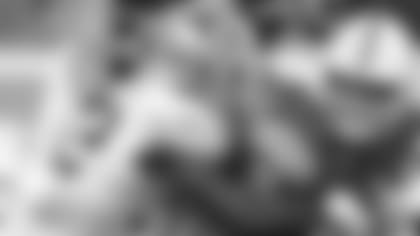 The Jets have signed OLB Jeremiah Attaochu. The club also placed RB Eli McGuire on Reserve/Injured.
The 6'3", 252-pound Attaochu attended Georgia Tech and was a second-round pick of the Chargers in the 2014 NFL Draft. Appearing in 38 games with the Bolts from 2014-17, Attaochu racked up 10 sacks and totaled 68 tackles. His breakout campaign came in 2015 when Attaochu started 12 contests and collected six sacks along with 55 defensive stops.
The Nigerian native, who moved to Washington D.C. when he was eight years old, signed a one-year deal with the San Francisco 49ers this spring and was released on Saturday.
McGuire, a second-year player who injured his foot on the first day of training camp, must remain on Injured Reserve for eight weeks before being eligible to return to the Jets in Week 9 with an IR-return designation. The 5'10", 214-pound McGuire rushed for 315 yards and added 17 receptions as a rookie.