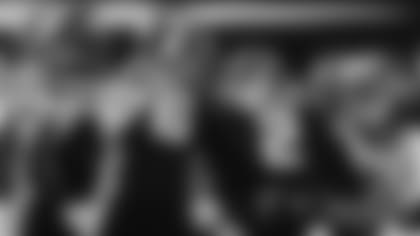 Zach Wilson is making significant progress as the Jets enter their final month of the 2021 season. But as a home date with the Saints (5-7) beckons for the Green & White (3-9) at MetLife Stadium on Sunday, Wilson will likely make his ninth NFL start minus a number of his key playmakers.
While veteran WR Corey Davis, who was placed on injured reserve on Tuesday, and leading rusher Michael Carter, expected to miss 2-to-4 weeks with a low-grade, high-ankle sprain, are definitely out, electrifying playmaker Elijah Moore didn't practice this week due to a quad ailment. Tevin Coleman, who has been the primary ballcarrier the past two games, is in concussion protocol and the status of TE Ryan Griffin (knee/ankle), FB Trevon Wesco (ankle) and RG Laurent Duvernay-Tardif (ankle) are in doubt.
"I feel like the next guy up has something to prove as to why maybe they weren't on the active roster before or whatever," Wilson said on Thursday. "I feel like those guys are hungry and ready to be in this situation and ready to take advantage of the opportunity."
Five opportunities remain for Wilson as he looks to finish his first professional campaign on a high note. Wilson's career-high 3 TD effort against the Eagles last week wasn't enough for a victory, but head coach Robert Saleh said it was the rookie gunslinger's best performance "by far" to date. After missing four games with a knee injury, Wilson completed 60% of his passes against Houston and Philadelphia in Weeks 12 and 13, with 4 TDs and 1 INT.
"I think the cool thing about my situation is I'm kind of looking at it this like this is my second year, kind of like I already played the first season," Wilson said. "I took some games off because off injury and now I feel that excitement, the energy to want to play and finish the season is 100 percent there for me just because I feel like I've learned so many things and I've worked to improve on them and now I have to show them in a game. Now I feel like I'm two games in to a new season. I feel like the last five, I have to take very seriously as far as working to improve every single day."
The Jets see the improvement, and the production backs up that belief. Over his last three starts, Wilson's time to throw has dropped to 2.72 seconds as his targets have gained 49.7% of their yards after the catch compared with 2.99 seconds and 34.2% his first three NFL starts. And Wilson has been sacked seven times during that time span as compared to 15 in Games 1-3.
Of Wilson's 36 targets last week, 21 went to Moore (12), Coleman (4), Davis (3) and Griffin (2). Lineup changes are the norm in the NFL and nobody knows that better than a Saints club that has been decimated by injury.
"He likes to get the ball down the field," Saints head coach Sean Payton said of Wilson. "He has real good arm talent. He can get outside the pocket, he can evade, he can extend plays and you see that. We saw it when he came out of college. So being good with our eyes, understanding the coverage, what we're trying to take away and staying on top will be important."
The Saints enter Sunday's contest 22nd in pass defense (250.1 Yds/G), but they have a talented secondary that includes CBs Marshon Lattimore and Bradley Roby, and veteran safeties Marcus Williams and Malcom Jenkins.
"I have to be accurate, we have to win," Wilson said. "I know the receivers know the challenge coming ahead for them as well. I have to give those guys a chance with the ball and then really we just have to execute. We have to be efficient. I have to be able to make the right decisions, understand when to get off of something and just give our guys a chance to make plays."
For most of the game against the Eagles, the eyes were clear, the feet were clean and the release was quick. The next step for Wilson is to build on that despite a lineup that will likely look much different on Sunday.
"The ball was coming out and I think it was like 2.6 [seconds]," Saleh said. "I mean it was the fastest he's released it all year. And he was, for the most part, accurate. He's still got to control his fastball, but he was ripping the ball with confidence, his eyes were in the right spot, his feet were very settled, they were pointing toward where he needed to throw. We marched up and down the field in those first three drives and then the rhythm got away in the second half because of lack of possession, which is another learning experience for him. He's got to be able to step on the field, and the offense has to be able to step on the field, with long droughts and still be able to perform. But his game was a really good step forward and now he's got to go stack it up and do it again."
Wilson wouldn't have hit any other way.
"The best way to be a good starting quarterback is to start and play," Wilson said. "When you get a lot of reps at something, you're just going to keep getting better at it just like every profession anyone does in the world. You're going to get better at something the more reps you get. I'm just getting more and more snaps and it's just feeling more and more comfortable to keep doing the same things."
See the Top Practice Images Leading Up to the Sunday's Game at MetLife Stadium Against the Eagles