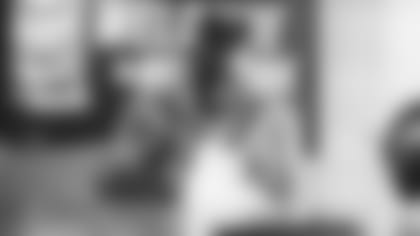 Even a Super Bowl champion safety wants to feel wanted. And the Jets wanted Jordan Whitehead.
"Coach Saleh made me feel like I was really wanted here," Whitehead told reporters during a conference call on Thursday. "I talked to coaches and players, and what they were telling me made me feel like I was wanted. The biggest thing was the trust I felt from Coach Saleh. I feel I can really trust him."
That feeling of trust is mutual after the Jets lured Whitehead, 25, away from the Tampa Bay Buccaneers, where he started 55 of 59 games over four years, a résumé that included each and every game as the Bucs rolled to victory in the Super Bowl after the 2020 NFL season.
He said he did not receive an offer from Tampa Bay as free agency approached, adding: "Business is business. There's no hard feelings. I love the coaches there, they taught me a lot over there. Great guys, great organization, but I'm excited for this journey."
Whitehead fills an important position and a vacancy (Marcus Maye, who had been the longest-tenured Jets player, signed with the Saints in free agency). Last season, DC Jeff Ulbrich and his staff were left to scramble and improvise when first Lamarcus Joyner and then Maye went down with season-ending injuries. Joyner, a wily veteran, re-signed with the Green & White. Now with Whitehead and Joyner in the room, the Jets have depth and options that include Ashtyn Davis, Elijah Riley, Will Parks and Jason Pinnock, as things now stand.
"When I was at Tampa, we started off with two losing seasons," Whitehead said. "The next thing you know, we won the Super Bowl. A lot of people say it was Tom Brady and all that. It takes one guy, one mindset to just change the whole season. What the Jets did last year versus the Bucs just showed what they have. They already have a winning mindset. You just add a couple of pieces and you can change this thing around.
"That's what I want to be, one of those pieces to help change this around."
Whitehead is a physical safety who is comfortable playing in the box, at free safety and in the slot; and he's also shown he can be a demon in defending against the run.
"Hard hitting, that's my style," he said. "I go back to little league, I always liked those big hits. For a while I played on offense, but you don't get to do those big hits. On defense, you don't get to take it to the house, you don't get that love. I chose to do the big hits. I pride myself on it. I just have to make sure my body can take it."
There's little doubt that Whitehead revels in inflicting pain, and he's also shown he can endure the same -- he played in Super Bowl LV with a torn labrum in his shoulder.
As a cousin of the Jets' former star Darrelle Revis (who he called "like a big brother"), Whitehead has literally learned at the feet of defensive genius. He was in the room in Pittsburgh when Revis was drafted by the Green & White all those years ago.
And when it comes to today's Jets, Whitehead had a unique vantage point in January when the Buccaneers came to MetLife Stadium and escaped with the victory against a plucky Jets team led by QB Zach Wilson.
"You could see he has that arm, can throw the ball and he can run the ball," Whitehead said. "And I know it's harder for a defense to get ready for a quarterback who is mobile and who has a great arm. So when we played them I was in the red zone and in the post, they ran a dig and a post. I jumped and hesitated, kind of waited for the dig to open and I kind of jumped it. And didn't think the post would be coming inside and he threw that ball over the top of two linebackers, in between me and the corner. That guy has a lot of arm accuracy and arm strength. Just trusting his ability to squeeze that ball in there just shows the type of quarterback he is."