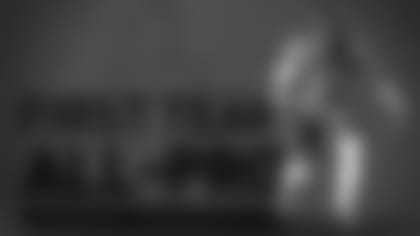 Jets S Jamal Adams was named an Associated Press first-team All-Pro.
Adams, who earned his second Pro Bowl invitation in December, was a second-team All-Pro last season. He became the first defensive back to lead the team in tackles since S Victor Green in 1999. Adams' 6.5 sacks this season are the most by a Jets DB in franchise history, but he fell 1.5 shy of the NFL record, which was set by Adrian Wilson in 2005. Adams missed two games (Weeks 14-15) because of an ankle sprain.
Adams, who received the most votes at the safety position on the AP All-Pro team, had 14 tackles on third/fourth down this season and 13 in 2018, which are two of the three best totals in that category since 2000. The 6'1", 213-pounder also led the defense with 15 quarterback hits and was named the Curtis Martin Team MVP for a second straight year. He became the first Jet to claim back-to-back honors since Martin captured three consecutive team MVP awards from 1999-2001 and he is one of four Jets to earn the award in consecutive seasons (Martin, QB Joe Namath, 1968-69, and WR Al Toon, 1986-88).
"He's had a great year," Coach Adam Gase said after Adams' Pro Bowl invite. "He's played as well as any player I've been around, consistently. Week in, week out, you never see a dip, it's always elite level."
Jets general manager Joe Douglas added: "As all of you know, Jamal is an amazing player. We saw what he did all year, but really when we deployed him, he was such a factor as a pass rusher around the box. He did so many good things. His leadership, he was voted team MVP by his peers. He's a special guy."
Adams, who was drafted No. 6 overall in 2017 out of LSU, has tallied 273 tackles, 12 sacks, 25 pass defenses and 2 interceptions in his first three seasons. He scored his first two career touchdowns this season, picking off Patriots QB Jarrett Stidham in Week 3 and returning it 61 yards and adding a strip-sack-fumble-recovery in Week 10 against Daniel Jones and the cross-town Giants.
"I really feel like I started to understand the game more in my second year," Adams said. "My rookie year was kind of up and down, but my second year I started to understand. I understood what's going to make me play. I understood coaching, how to break down film, how to watch film. I just continued to do those two things and listen to the guys around me — not just my coaching staff, but players. If they see something, we'll feed off each other and we'll bounce off ideas. That's what it's about."
He added: "When I touch the field and it's game time, it's a totally different mindset. I turn into a different human being. I live by it, I breathe by it, I practice like it. I work hard like it and it shows."