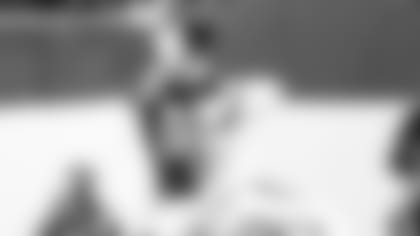 The good news: All five of the Jets rookies who played in Sunday's loss to the Ravens at MetLife Stadium acquitted themselves relatively well.
The bad news: Five talented and energetic players are incapable of winning games on their own.
Oh yeah ... and welcome to the NFL.
"There is no moral victory, not even close," head coach Robert Saleh said after the 24-9 loss to open the 2022 NFL season. "We're young at critical positions and have to grow up quick. Garrett [Wilson] did a heck of a job getting to sticks, but he has to put his shoulder down and get the first. Breece [Hall] had a fumble. There is no moral victory, but if they do play with that type of mentality and effort, we will be fine."
Wilson was one of the Jets' three first-round draft picks, along with No. 4 overall pick Ahmad "Sauce" Gardner and DE Jermaine Johnson. In the game, Wilson caught 4 passes (on 8 targets) for 52 yards (a 13-yard average). Late in the first quarter he grabbed a pass from Joe Flacco on third-and-10, eluded a pair of would-be tacklers, but failed to move the sticks when he gained 9 yards on the play.
"I think Garrett is terrific," Flacco said. "It's tough to think about what he did for the yardage. You can tell that when the lights turn on, it's not too big for him. He was excited to be out there and play his game, and let his play do the talking. That's what I see when I watch the rookies line up for the first time. It's what I saw today."
For his part, Wilson said he was not nervous before or during the game, but only wanted to make a positive impact.
"I don't want there to be any excuses out there for anything," he said. "We've got to be able to get out there and get right into the groove of the game. And you know, I've got to know the boundary distance and know exactly what's going on and go get the first [down]."
He added: "I trust in my ability. I know what I can do. And now it's just about showing the world and telling everybody what I can do every day, making plays all the time."
Hall, who ran the ball 6 times for 23 yards, and was targeted 10 times and made 6 receptions for 38 yards, brought a fourth-quarter drive to a disappointing conclusion. He caught a 6-yard pass from Flacco at the Baltimore 16-yard line, but had the ball punched out of his grasp by Chuck Clark, just short of a first down.
"It's very frustrating you know, I am not used to it," Hall, a star at Iowa State said referring to his fumble. "I don't usually do it. I don't accept it. It's going to hurt, but I just have to move on and have to move on to the next week and just do your best to not fumble next week. That starts with practice. A little more ball security, getting on the Juggs more, catching and securing it in practice and everything like that.
"Just keep your head up and believe in yourself," Flacco, 37, said about his young teammates. "Have the confidence you have that we're going to be better than today. I think they did a great job. They just got their first start and a handful of snaps in the NFL. It's an exciting day. For those guys, they have a lot in front of them and [they should] realize they're going to be great players for years to come."
Fourth-round pick OL Max Mitchell was pressed into duty at right tackle after Duane Brown sustained a shoulder injury in practice last Monday and was subsequently put on Injured Reserve. It was a challenging assignment for any rookie. With Mitchell getting the start, George Fant again found himself on the move from the right to the left side. The line was under pressure all game, leading to 3 sacks of Flacco who was also hit 11 times.
With the Jets still in the game, trailing by 3-0, with fewer than five minutes to play in the first half, Gardner flashed his speed and nose for the ball when he broke up a possible TD pass from Lamar Jackson intended for Mark Andrews in the front of the end zone. He was also credited with a pair of combined tackles.
The other two rookie defenders, Johnson and Micheal Clemons, took significant snaps. Johnson shared a sack with Jacob Martin and had combined 2 tackles. Clemons loomed near Jackson throughout the game without getting to the Ravens' mobile QB. He assisted on 2 tackles.
"It was awesome," Johnson said of his first (half) sack. He added: "We had zero give up. You know, we just went out there, we kept fighting. The ones kept going and we're trying to make some happen the whole time all the way to the end. We could fix everything else, but you know, the kind of character that's in this locker room. That's great."
See the best images from the opening game of the 2022 season at MetLife Stadium.