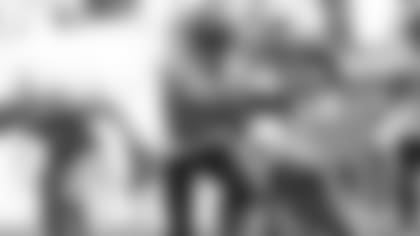 Jets WR Garrett Wilson amassed 89 yards receiving and a career-high 9 receptions to put the finishing touches on a record-setting rookie season as the Jets fell to Miami,11-6, at Hard Rock Stadium Sunday in their season finale.
Wilson, the No. 10 selection in last April's NFL Draft, helped set up both of the Jets field goals and finished the season with the franchise rookie records in yards and receptions with 1,103 yards – the first Jets rookie wideout with 1,000-plus yards receiving – and 83 receptions.
"I feel like I made the plays I had to make," Wilson said. "I feel like I left some on the field for sure, too, and I would have done anything to go out there and win that game."
After a quiet first quarter with 1 target, Wilson came on midway through the second quarter. With the Jets trailing by 3-0, Wilson caught a slant for 36 yards that set up a 32-yard field goal from K Greg Zuerlein to tie the game.
Wilson flashed his dynamic abilities to make defenders miss on the play, ducking under a tackle and picking up 22 yards after the catch, down to Miami's 26-yard line.
"I thought Garrett played well," HC Robert Saleh said. "He did pretty much everything that was asked of him."
Wilson had a strong second half with 7 receptions for 48 yards. On the Jets second field-goal drive, which spanned and third and fourth quarters, Wilson had 4 receptions for 44 yards including a 16-yard catch down the seam to begin the possession.
With 8 minutes remaining in the game, Wilson continued his late-game surge with an 11-yard catch on third-and-9 and then he drew a pass interference that gained 27 yards to put the Jets at the 50-yard line.
"It was a tough matchup out there," Wilson said. "This was my first-time seeing Xavier Howard and he's a really good player. And I feel like I learned a lot I learned a lot."
Trailing by 9-6 with 18 seconds remaining, Wilson had 102 yards receiving, but lost 13 on the Jets desperate game-ending lateral play.
He still managed to record his sixth game with 80-plus yards receiving and register his fourth with 8-plus receptions. Additionally, following the two games on Saturday and Sunday's early games, Wilson maintained his lead in receptions and yards among rookie WRs.
Heading into the offseason, Wilson hopes to rest and said that he is looking forward to building off a strong first season by adding bulk.
"It will be a good offseason," Wilson said. "Because I know it's been a long year, year and a half. I am just excited to see what everyone goes about this offseason."