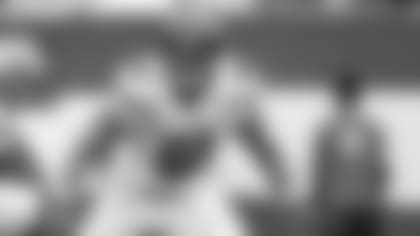 Every NFL rookie waits for the moment when his number is called. That moment came sooner than expected for the Jets' Max Mitchell, the team's fourth-round pick from Louisiana, who started in the team's Week 1 loss to Baltimore. When Duane Brown was placed on injured reserve with a shoulder injury two days ahead of the Jets' home opener against the Ravens, George Fant flipped from RT to LT and Mitchell stepped into the spotlight.
"I just wanted to keep my head down through the whole process and it kind of worked out in my favor so, it was awesome," Mitchell said. "There are definitely some things to work on. You know, I mean, it was my first game here. So definitely some mental errors here and there, but overall, I think it was a solid start."
Mitchell became just the third offensive lineman selected in the fourth round or later in the NFL draft since 1970 to start on kickoff weekend for the Jets. HC Robert Saleh was confident in Mitchell's accelerated development entering Sunday and was pleased with how he handled the start as the Jets averaged 4.9 yards a carry on the ground.
"He did really well," Saleh said of Mitchell. "He's going to be a very good tackle for a very long time. He needs to continue to get those reps, but I thought he handled himself well in the run game. A couple of things he could have done better, pass game was good. Again, a couple of things he could have done better, but for his first time out against that defense, I thought he did really well."
OC Mike LaFleur added: "Max did a good job. Max did exactly how me, Saleh, John Benton, the o-line coach, and all his teammates thought he would. It wasn't too big for him. Certainly, wasn't perfect by any means. He's a guy that's just ascending in terms of every single day at practice, just getting better. Sometimes with offensive linemen, when you don't notice them watching the tape, that's a good thing. For the most part, he went unnoticed which, again, is a good thing."
Mitchell was one of nine starters who made their Jets debut on Sunday and one of two who started in their NFL debut (the other was CB Sauce Gardner). The young Jets had rookies play 17% of snaps, which was the 2nd most in the NFL.
"We have some playmakers in the room now," Mitchell said of the Jets rookies' first game. "They came out, they contributed, and they showed out on the field. We all can learn. It's experience and getting to know the game a little bit better and how the speed of the game plays at this level. So, it's great for us."
Mitchell will face big another challenge this weekend as the Jets take on the Browns in Cleveland. DE Myles Garrett, who ranked 3rd in the NFL in sacks last season (18), and DE Jadeveon Clowney, who racked up 9 sacks last season, form one of the best edge duos in the NFL.
"You know they're great players," Mitchell said of Garett and Clowney. "They had a pretty good week one, but we're going to go out there and try to compete with them and dominate them, hopefully. You got to come out and give your all every day you know.
"It started Monday but you know, you got to be sharp, your technique needs to be sharp, and you need to be on your assignment. You got to know what the offense is trying to do and go out there with confidence."