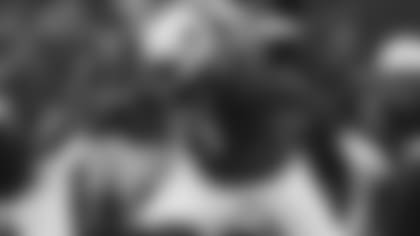 When Joe Douglas made Mekhi Becton the 11th overall selection in the 2000 NFL Draft, the former Louisville tackle became the first offensive linemen taken by the Jets in Round 1 since 2006. At 6-7, 364 pounds, Becton is one of the largest players the Jets have ever drafted, but he stood out on the collegiate level for a number of reasons.
"Even before the Combine, I think what a lot of people saw was during the season, Mekhi was just on another level in terms of the way he finished plays and his mentality and his physicality on the field," said the Louisville Courier Journal's Cameron Teague Robinson of Becton. "Louisville needed him to be an anchor on the left side of the line. They wanted to be able to run there on first, second, third, and if they needed to — on fourth down."
As a freshman, Becton started 10 games at right tackle for the Cardinals before transitioning over to the left side for 10 games his sophomore season. As a junior — his final year at Louisville — he started 11 games at LT and secured first-team All-ACC honors. Under the guidance of a new offensive line coach in Dwayne Ledford last season, Becton set the bar high.
"Even now, they talk about him being the best tackle in the NFL. That's just kind of the mentality Mekhi has, and he has that work ethic. Going into last year, he wasn't at all in the preseason on the All-ACC list, and I think he took that to heart," Teague Robinson said. "I think he wanted to prove a lot of people wrong and went into the season with a chip on his shoulder and then was named the best offensive linemen in the ACC. You can see the way he worked his way into shape and the way he played every single down, that he had something to prove all year. I still think he has that now going into his rookie year with the Jets."
Last season, "Mount Becton" was a key part of a Cardinals offense that recorded 5,815 total yards and averaged 33.08 points per game. After shedding weight following his junior season and running a 5.10 40-yard dash at the Combine, Becton's athleticism became even more noticeable.
"He moves really well," Teague Robinson said. "You see somebody like that and he's able to move the way he does laterally and get up the field as quick as he does. Obviously the 40-yard dash is the flashy number, but his 10-yard split is going to be how fast he gets off the line and gets to the next level. Ledford preached a lot in his first year here getting off the ball quick, and Mekhi did that a lot. Sometimes they moved him around a pole, and he was just dominant. There were hardly many times where he couldn't move somewhere, they needed him to. He was that versatile for Louisville."
In addition to Becton's athleticism and skillset, his character off the field will help him elevate his game as he prepares for the next level.
"I think Mekhi is just that guy who supports his teammates," Teague Robinson said. "The guys love him, coaches love him, he was a fan favorite here in Louisville, so that sticks out to me. He's going to be dominant on the field, but he's a pretty good person off the field as well."