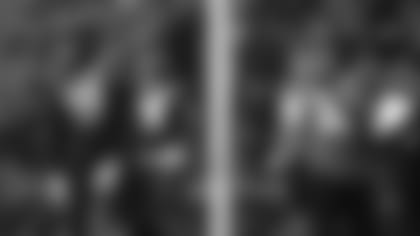 Jets coaches Shawn Jefferson and Hines Ward have caught so many footballs over their storied NFL careers that it would surprise few people if they had the words "The Duke" imprinted on their palms. To say they have the pedigrees to have an impact on young and promising receivers is an understatement.
That mentorship and coaching ability has been put to the test during the 2020 season as the Jets receiving corps has endured multiple injuries while buoyed by expectations focused on Denzel Mims, the team's rookie second-round draft pick out of Baylor. Mims was sidelined by nagging hamstring issues until last week's game against Buffalo.
"It's a good thing for Mims that he has two veteran coaches [along with Ward] who have been through it," Jefferson, the Jets' assistant head coach/wide receivers said. "We know he wants to be out there, but you want to be healthy. It's typical of young guys coming out of college, this game is fast and their muscles are not used to this speed.
"I thought the kid did great going out there competing even though he's not 100 percent. He's pushing the envelope. He's a hunter, and when you talk about dogs, this guy will hunt, he will bite. I think he will be a great player for the Jets for a long time."
After waiting for Mims to join a unit that was missing Jamison Crowder (groin) and Breshad Perriman (concussion protocol) last week, the rookie snagged 4 passes from QB Sam Darnold for 42 yards. His uniform jersey No. 11 made Mims (6-3, 207) seem even longer, prompting the Jets' former linebacker Bart Scott to compare his look to that of the Jets' former WR Braylon Edwards.
While Jefferson and many observers were impressed with Mims in his debut, it was still only one game, only four receptions. Tempering expectations can be difficult and challenging.
"I think last week was just the tip of the iceberg," said Jefferson, who played in the league for 13 years and has been coaching for 16. "He's got a lot of growth, this kid has got a lot of growth in him. He has a long way to go, but he's willing to work and he's always asking questions. 'How can do that better? What can I do better?'
"For a guy who didn't have any OTAs, who only had exposure to the offense virtually, I'm very very pleased with his first game. You could feel his physicality and ability to go up and get balls."
With Crowder and Perriman hobbled by injuries, which could keep them out of Sunday's game against the defending Super Bowl champion Kansas City Chiefs (plus the loss of Chris Hogan (knee), Jefferson and Ward continue to preside over a wide receiving corps that has had to embrace and implement the "Next Man Up" mentality.
"It's been challenging," Jefferson conceded. "It's been tough, our top guys all at once. But it's the NFL. We just have to stay the course and keep fighting."
The injuries are likely to mean more work for Mims, along with Braxton Berrios and the Smiths -- Jeff and Vyncint. And offensive coordinator Dowell Loggains, who will call plays for the second week in a row, might have Darnold target the Jets' tight ends more. The team's threesome of TEs -- Chris Herndon (13), Ryan Griffin (5) and Trevon Wesco (1) -- have combined for 130 yards without a TD.
Herndon was one of the team's strongest performers in the delayed and abbreviated training camp. That, however, has been slow to translate during the regular season.
"You can't really focus on yourself, wondering why things are not going your way," Herndon said. "At the end of the day it's a team sport, it's not about one person. It's about buying in and focusing on the goal as one." He added: "At this point last year I wasn't even on the field. I'm just happy to be out there."
After discussing his charges, Jefferson was asked about his son, Van, a rookie wide receiver with the Los Angeles Rams, who the Jets will face on Nov. 22.
"We're in a foxhole here trying to win a game," Jefferson said. "I don't have time to worry about my son out there on the West Coast. "I rely on my wife for news. I have my job and I'm fully committed here."