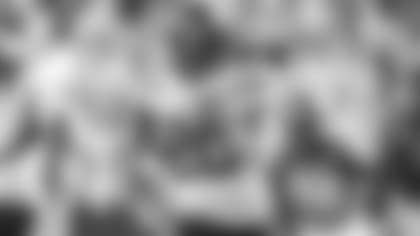 Table inside Article

| Jets Player | Exp in '23 | GP-GS-DNP-IA | O-ST-Total Snaps |
| --- | --- | --- | --- |
| Michael Carter | 3rd | 16-10-0-1 | 496-2—498 |
| Ty Johnson | 5th | 17-1-0-0 | 173-192—365 |
| Breece Hall | 2nd | 7-2-0-0 | 233-0—233 |
| Zonovan Knight | 2nd | 7-4-0-3 | 198-16—214 |
| James Robinson | 4th | 4-0-0-6 | 57-0—57 |
Finished on Injured Reserve: Hall, Nick Bawden (FB)
POTENTIAL FREE AGENTS IN '23
Unrestricted: Johnson, Bawden
'23: Young, Battle Tested and on the Mend
The Jets have an exciting and versatile running back room headlined by the return of RB Breece Hall. Hall was on pace for more than 1,600 scrimmage yards when his rookie year was ended in Week 7 because of a torn ACL. The second-round pick finished with a team-high 463 rushing yards and 4 touchdowns while averaging 5.8 yards per carry. He was named Pepsi Zero Sugar Rookie of the Week twice in three weeks – Week 4 at Pittsburgh and Week 6 at Green Bay, showing patience, burst, vision and receiving prowess.
Michael Carter, who enters Year 3 in 2023, returns after totaling 402 rushing yards and 288 receiving yards. Carter's 41 receptions this past season ranked third on the team. The fourth-round pick in 2021 out of North Carolina called his sophomore season a "learning experience," but feels good about the team's outlook.
"Everybody's going to take a step forward and I'm confident in that just because I've seen it," Carter sad. "I've been in a situation where there was really nothing [to look forward to]. I'm sure the Jets have had years where they had nothing to look forward to, but those days are really over. Fun, fun time to be in New York."
Zonovan "Bam" Knight, another Carolina back, could again have a role after coming on in the back-half of the season, leading the Jets in rushing yards over the final seven games. The undrafted free agent out of N.C. State saw his first game action in Week 12 against the Bears before starting each of the next four games. He finished with 85 rushes, 300 yards and 1 score, and was named Rookie of the Week in Week 13 at Minnesota.
Ty Johnson and James Robinson, who was acquired midseason from the Jaguars and was not active the last five games of the season, have expiring contracts. Johnson is unrestricted, Robinson is restricted.
'22: Quick Look Back
The rushing numbers coincide with Hall's emergence and subsequent injury. The Green & White ranked No. 17 in the NFL in rushing yards per game (117) with Hall in the lineup and No. 30 (86.7 yds/g) without. OL Alijah Vera-Tucker's absence from the lineup also had an impact on the ground game. Vera-Tucker sustained a torn triceps tendon at Denver, the same game Hall went down. It seemed like the Green & White was establishing itself as one of the league's best rushing attacks, averaging 156.3 rushing yards from Weeks 5-7, which ranked No. 7 in the NFL.
"Football is a team game," Hall said. "So you can never blame it all on one person or one coach, or whatever the case may be. It's an operation. On the field, everybody has to do their 1/11th and the coaches have to do their part, too. The whole operation has to be consistent and be intact for everything to go well."
RB Trivia
Before suffering his season-ending injury vs. the Broncos, Hall made his mark, especially in the explosive-plays area. He became the only Jet, never mind rookie, with a 60-yard rush (Game 7 at Denver) and a 60-yard reception (Game 5 vs. Miami) in the same season.