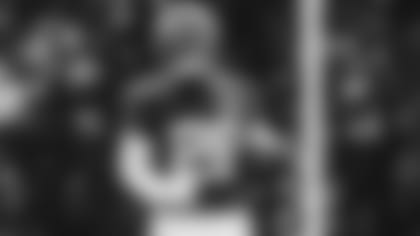 Returning from a year on the sideline, Jets RB Le'Veon Bell was "itching" to take the field for his first training camp in new colors.
"It felt good," Bell told reporters after practice. "To be back out there with my teammates, the whole camp environment, it felt good getting up in the morning, getting the body right, having a long day. You have to enjoy the process. I'm excited."
While the sixth-year veteran readjusts to practice, head coach Adam Gase said the team will get a feel for his comfort with plays and closely monitor his reps, especially once the pads come on.
"He's been great with me as far as telling me how he feels, what he likes," Gase said. "He hasn't told me he hasn't liked anything yet. I'm sure there will come a point when we try something and he'll be like, 'Eh, I'm not feeling that.' That will probably be closer to games.
"We're always going to keep a close eye on that, especially when a guy has had as many touches over his career as he has. We're going to be aware of that. Right now, today was day one. And as we go through training camp, we'll just constantly be in communication with him."
Regardless if Bell receives a full workload or just a handful of reps, he's planning to go full-throttle.
"For me, I'm going to go as hard as I personally can each and every rep," he said. "It's going to be more so on the coaches to hold me back just because of the fact I'm not going to hold myself back. If I have four reps, I'm going to run four reps as hard as possible. And I'll stay in the for the fifth rep if they don't take me out, that's the kind of player I am. They'll protect me from myself."
For five seasons, Bell was the Steelers' workhorse. He has a career 1,541 touches (308/season) including a career-high 406 in 2017, and said he's up for 500 touches this year. But his main goal is to help the Green & White win games even it results in fewer times his number is called.
"If I have 19 touches and we win the Super Bowl, do you think I care? I don't," he said. "I just want to go out there and do what I can to help this team win games. When I'm out here in practice, I'm helping the defense because I feel like I'm going to make those guys go hard tackling me and tagging me off in practice. The same thing, the defense is also helping me.
"I just want to make sure we keep getting better. I don't get care how many touches I get, how many touchdowns. I just want to win games."