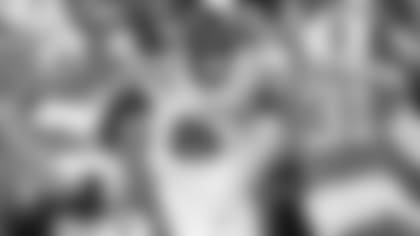 Three hundred and fifty days after Jets RB Breece Hall sustained a torn ACL against the Broncos in Denver last season, the second-year running back returned to Empower Stadium at Mile High and ran for a career-high 177 yards, including a momentum-swinging 72-yard touchdown run as the Jets (2-3) won, 31-21.
"He's special," HC Robert Saleh said. "He's kind of a deceptive runner. He's just so massive and it doesn't look like he's moving fast, and you feel like you're tracking him properly and then all of a sudden, it's like 'where did he go?' He's different."
Last season, Hall ran for 72 yards on 4 attempts in a 16-9 win over the Broncos and took a pitch 62 yards to the house for the game's only touchdown before he got hurt early in the second quarter.
Sunday, trailing by 13-8, Hall took an inside handoff on Jets' first offensive play of the second half and blew past Denver S Kareem Jackson for another long TD run as he followed blocks by LG Laken Tomlinson and FB Nick Bawden.
"It was a counter play and I had been complaining about it all day because I felt like I didn't have enough space to like maneuver," Hall said. "And then Coach asked me to give it one more. 'I'm going to call one more and see what happens.' He called it and hole was wide open and blocked up perfectly. I had to make the safety miss and no one else was there."
QB Zach Wilson said of the run: "I handed off, looked back and you could've driven a semi-truck through that hole."
According to Next Gen Stats, Hall reached 21.5 miles per hour on the score.
"I wasn't even running full speed the whole time," he said. "Most guys see my 20-yard burst and think I am not catching him, and I can just coast the rest of the way."
Before the game started, Hall took a moment to reflect on his journey after his stellar rookie season was cut short.
"It was crazy," the 22-year old running back said. "When I first walked in the stadium, I was honestly joking around about it. I saw it was the third table over and that was where they were doing all the stuff on my knee. And I just about there as where it started. But injuries happen for a reason. God put me through it for a reason."
The Iowa State product ran for 100 yards on 8 attempts in the third quarter (12.5 yards per carry) and the Jets outscored the Broncos by 10-0 in the frame. The score was Hall's third rush of at least 60 yards since the start of the 2022 season which tied Chicago QB Justin Fields and Seattle RB Kenneth Walker III for most such carries over that span.
"He's had a couple opportunities to house one," Saleh said. "In Buffalo he had a chance to go to the house and then in Kansas City, so it's good to see him take one of the house. He's a special back."
The Jets offense got off to a slow start with 30 total yards in the first quarter. Early in the second quarter, Hall led the charge on an 11-play 67-yard drive capped by Greg Zuerlein's 26-yard field goal that cut the lead to 10-8. The second-year back ran for 50 yards on the possession including explosive runs of 19 and 16 yards.
Over the first four weeks, Hall played on a limited snap count as he continued to rehab. Saleh told reporters postgame that Hall's pitch count ended last week as the running back ran the ball a career-high 22 times. His previous high this season was 12 (Week 3 vs. NE).
"I'm just glad I could just expand my role in the offense," he said. "It was good to help out Zach and the O-Line, the tight ends and the receivers a little bit."