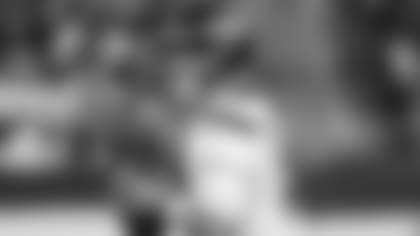 Sam Darnold and Lamar Jackson will face off for the first time as professionals Thursday night in Baltimore. Darnold, the No. 3 overall selection in the 2018 NFL Draft, has helped the Jets win four of their past five games. And Jackson, who was the final pick of the first round in 2018, is an MVP candidate on an 11-2 Ravens team many have pegged as Super Bowl favorites.
"Huge challenge but also a huge opportunity as well," said former Jets QB Chad Pennington of Darnold's 24th NFL start.
Jackson is at the controls of the NFL's highest-scoring offense (33.1 Pts/G) and the Ravens run it better than anyone (200.9 Yds/G). The 6-2, 212-pound Jackson is an electrifying athlete who has already rushed for 1,017 yards, but the second-year passer also has connected on 66.3% of his passes for 2,677 yards with 28 TDs and only 6 INTs.
"He does have a dynamic arm," Pennington said of the Jackson, who went to Louisville. "His throwing motion is really similar to Michael Vick's throwing motion and certainly his leg power is as well. But what's interesting about Lamar is because he's so efficient in the running game, his running is actually setting up his passing. Instead of it being another running back setting up your passing for a quarterback, the quarterback is doing both which is unique and interesting. We haven't seen this type of play in the NFL in a long time, since Michael Vick. He's been able to hit the ones he's been asked to hit, meaning when he has one-on-one coverage and when he's had receivers popping open because those defensive backs and linebackers are paying attention to the run game. He's been able to hit those intermediate chunk plays for the Ravens."
Jets reserve defensive back Bennett Jackson has firsthand knowledge of the Ravens' dynamo. He was a practice squad player last year in Baltimore and he faced the rookie QB in workouts. He credits Jackson for understanding the scheme, letting the game come to him and never forcing the action.
"I feel like this strength is he scrambles to pass," Jackson said. "I don't feel like he scrambles to run unless he sees it's wide open and he's going. When you're scrambling like that, you create different angles to get your receivers open. They always work the scramble drill."
The Jets had to move fast this week Sto get ready for this unique offensive attack. They held a pair of walkthroughs before departing for Baltimore on Wednesday, but there is no way to truly simulate what they will confront Thursday night.
"Part of the thing that makes it so difficult is the speed that everything will happen in the game and how fast that Lamar is going to make decisions, and if they're doing zone read stuff, whether he gives it or pulls it," Coach Adam Gase said. "And then there's going to be play action off that — just trying to decipher what's what and playing fast and doing it."
Darnold, fresh off his third, fourth-quarter comeback victory, genuinely likes Jackson. But he's not worried about the challenges the Ravens QB will pose the Jets seventh-ranked defense. He will need a strong game against the Baltimore's sixth-ranked defense to give the Jets a chance for an upset victory.
"It doesn't matter who's on the other side," Darnold said. "We've got to execute to the best of our ability. The second part of that, Lamar's a great dude. I was fortunate enough to spend some time with him during the draft process and all of that and he's a great dude. He's just always seems like he's always in a great mood, he's always just bringing up everyone around him. So, can't say enough good things about him."
In 10 starts this season, Darnold has guided the Green & White to a 5-5 mark while hitting on 62.2% of his passes for 2,424 yards with 15 TDs and 11 INTs. He'll face a Ravens defense that is loaded in the secondary and has blitzed more than any NFL club.
"For Sam Darnold, it comes down to working in a hostile environment, probably one of the most hostile environments he's faced as a pro and how he handles that both mentally and physically and trying to work through those different challenges the Ravens defense will present," Pennington said.
While no quarterback from the 2018 draft class has made more of a jump in Year 2 than Jackson, Darnold's numbers have improved since his rookie campaign. He also is seeing things clearer and his confidence is growing.
"I'm recognizing things a lot better than I was last year, to a certain degree," he said. "I feel like coverages and different pressures that teams bring, I feel like a lot more comfortable there. I feel like I've made a jump to that degree."
The Jets don't own a victory over a team that has a.500 record or better. Even though the Green & White won't make the playoffs for a ninth consecutive season, a win against the Ravens on the road would be a signature moment for the 22-year-old Darnold.
"They're a good team, they've won a lot of football games this year," Darnold said. "But for us, it's about executing and doing what we can to make sure that we do that to the best of our abilities. I feel like if we go out there and play our style of ball, we'll execute, and we'll make things happen."
This is the start of a challenging three-game stretch for Darnold and the Jets offense. After they tussle with the Ravens, they'll get see a pair of top-10 defenses in the Steelers (No. 6) and the Bills (No. 3).
"I think Sam won't buy into the hype of Sam vs. Lamar, quarterback vs. quarterback," Pennington said. "But that is certainly the challenge of not trying to match Lamar and what he's doing. Both of these quarterbacks have completely different skill sets, but they both are really great young talents that our league can see them perform at a high level for a long, long time. Sam just has to go in the game and try to take care of his business and just take what the Ravens defense gives him and play within his own skill set. Don't try to match Lamar Jackson."