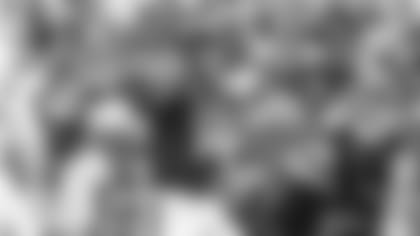 With the Jets season in danger of spiraling out of control, Sam Darnold took command. Since he sought out Coach Adam Gase for a heart-to-heart after a Week 8 loss at Jacksonville, Darnold has connected on 66% of his passes for 783 yards with 6 touchdowns and 2 interceptions and his team has gone 2-1 after a 1-7 start. Riding a two-game win streak to begin the season's second half, the Jets will face the Raiders on Sunday with a signal-caller who has become more authoritative and grabbed the reins of the offense.
"We're looking at this as just the next game," Darnold said of the Week 12 contest at MetLife Stadium. "We're taking it one week at a time and right now we're preparing to play the Raiders and that's really our mindset."
Despite throwing for a career-high four touchdown passes last Sunday in a 34-17 triumph at Washington, it was a Darnold, 22, sideline action that caught the eye of veteran OLB Jordan Jenkins. After forcing a screen pass that resulted in a second-quarter interception, Darnold huddled with his teammatesand delivered an impactful message.
"Sam, he's pretty hot right now," Jenkins said. "He's making all the right checks. After he threw the pick, he got the offense together and was like, 'Look, we need to get this thing right.' I just remember looking over and he got everybody together and he got control of the huddle. It was one of the first times I looked at him and it was like, 'Oh, wow, he's taking control of this thing and he's being a true quarterback.' He was just on it, it was a great thing to see."
In victories over the Giants and the Redskins, Darnold led the offense to touchdowns on each of its five trips inside the red zone. The Jets have also struck early, scoring a TD on the opening possession in four consecutive games for only the second time in franchise history.
"I feel like I'm seeing it really good right now," Darnold said. "And if I just continue to do that, continue to put our team in a good position and if we continue to play with the tempo we're playing at, getting in and out of the huddle, then I think we'll continue to play that way."
Darnold will get a chance against an Oakland defense that ranks 31st in red-zone efficiency (65.6%), 27th in passing (262.2 Yds/G), 23rd in third-down effectiveness (43%) and 21st in scoring (25.0 Pts/G). He has excelled of late while working inside the pocket, but also by extending the play with his feet and allowing his receivers to find open spaces down the field.
"He can put a lot of stress on you, he can keep plays alive," said Raiders Coach Jon Gruden. "You have to defend two plays — you have to defend the play Adam Gase calls and then you have to defend the play that Sam Darnold potentially creates. So we're going to have to contain him, we're going to have to stay involved in coverage longer than we want to at times. Easier said than done."
Darnold, who is set to make his eighth start this season and 21st of his professional career, knows there is a fine line between making a play and beingreckless. After turning over the ball eight times in Weeks 7 and 8 losses to the Patriots and the Jaguars, Darnold has two turnovers in November.
"I just have to be smart with the football," Darnold said. "When a play breaks down and there are a lot of guys around me, I have to realize that and either throw it away or make sure I have it tucked and just go down. There are certain times when I just have to eat it and for me I have to do a really good job of realizing when guys are around me and when I can't make a play and when I can."
While Darnold's improvisational skills have been on display since his college days at USC, the No. 3 overall pick in the 2018 Draft provides Gase a lot of freedom in terms of play-calling. Since Darnold is such an accurate passer on the move, Gase has not been reluctant to call sprint-out passes and play-action bootlegs for the 6-3, 225-pounder.
"I think the change of arm angle is something you don't see all the time," Gase said. "I think the touch he has, he just knows the right type of ball to throw. For the most part, he's been pretty accurate on the move, we've had a couple missed where he's left the ball inside and I know he wants those plays back. But for the most part whether it's left or right, he's been fairly accurate and you don't see many quarterbacks that are right-handed that can roll left and throw accurate balls the way he does — I think that's unique. I don't think you see that a whole bunch."
As Darnold has four his voice as he has become more confident in the offensive system. The well-publicized meeting with Gase was a healthy exchange of likes and dislikes and he's been a different player since, but there is reason to believe Darnold is just beginning to scratch the surface of his potential.
"I have seen it as he's grown in this offense, he's been more vocal," said offensive coordinator/QB coach Dowell Loggains of Darnold, who is in his third offensive system in as many years going back to his USC days. "He's able to become an extension of the coaching staff, tell(ing) the players what he likes. Once you start to formulate, he's got a bigger library of plays. He can talk to Coach Gase and myself about things he's comfortable with, things he's not."
After disposing of the 2-8 Giants and the 1-9 Redskins, the Jets will step up in class against the 6-4 Raiders. The Silver & Black have a solid veteran quarterback in Derek Carr; big receivers on the outside; a powerful, nasty offensive line; and a rookie RB in Josh Jacobs who will test the Green & White's attacking defense and star safety Jamal Adams. But on the other side of the ball, Oakland will have its hands full with a red-headed Californian who is starting to set the tone for New York's AFC representative.
"Everyone in that locker room is set on winning no matter what, whether we're 1-7 or whether we have a winning record," Darnold said. "Everyone is going to take it one week at a time and continue to work super hard. That's just what we do and that's all those guys know in the locker room."