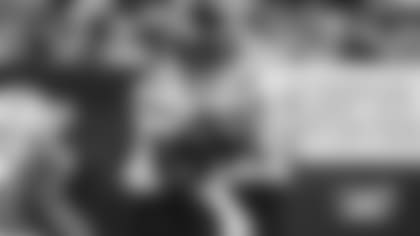 At halftime of their game Sunday night against the Raiders in Las Vegas, the Jets will reach the season's midway point. At 4-4 and fresh off a 27-6 Monday night home loss to the Chargers, the Jets have a championship defense and an offense that is searching for answers.
"It's got to be better," said QB Zach Wilson this week. "At some point we got to do something. It's frustrating, but we got to find a way."
Unbelievably Frustrating
Zach Wilson, who was sacked 8 times by the Chargers, has been sacked 4-plus times in each of the past four games. The offensive line has been decimated by injuries and will have a new combination again this week with veteran Billy Turner (hand) doubtful. While Garrett Wilson is second in the NFL in target share (32.3%, 46 receptions on 81 targets) and Breece Hall's 5.2 yards per carry ranks fourth in the NFL, the Jets have lacked consistency elsewhere among their skill position group. Red-zone and third-down issues have persisted, and the unit had four pre-snap penalties against the Bolts.
"It's about all of us," said offensive coordinator Nathaniel Hackett. "As we said, its self-inflicted wounds. It's the simple things that we have to get accomplished. I thought we did some nice things in the up-tempo stuff. I want to try to mix it up. So, we're trying to look into anything in any way to try to get those starts going. I think that's something that we're all working on, the coaches, the players, every one of us."
The Jets have been outscored by61-12 in the first quarter as slow starts have plagued a team that has trailed in every game this season. In games they have had a lead, the Jets are a perfect 4-0. Despite the offensive inconsistencies, the Jets have still won their last three of four overall and have an opportunity to make that four of five in Vegas. The Jets might emphasize the ground attack in the desert considering they rank fifth in yards per carry (4.74) and the Silver & Black have the NFL's 31st ranked rush defense (138.7 yds/g).
"It's unbelievably frustrating," Hackett said of his unit's uneven play. "It's unbelievably frustrating. I think it is for all of us, but the only thing we know how to do is keep working. For me keep coaching… find what we do well. I think that's what you're always trying to do, but at the same time, always being willing to change and being able to adapt with who we have out there."
A Lot of Things We Can Do Better
While points have been hard to come by, Zach Wilson leads the NFL in lowest interception percentage, and he's thrown 1 INT in 219 attempts since Week 3. But with pressure getting to the third-year signal-caller against the Giants and Chargers in Weeks 7 and 8, 4 of his 5 fumbles resulted in turnovers.
"It's not the 'Greatest Show on Turf,' " said Jets HC Robert Saleh. "Obviously, he knows that there's a lot of things he can do better — there are a lot of things we can do better. He needs to get better, he knows that. … I know the knee-jerk reaction to this is to always hit the panic button. But as a whole with all the circumstances and consider all the different things that are happening on offense in terms of the lack of continuity on the line and those guys trying to get their feet underneath them — he's doing the best that he can. But again, he still needs to get better."
After having their hands full with Joey Bosa (2.5 sacks), Khalil Mack (2 sacks) and Tuli Tuipulotu (2 sacks), Wilson and the Jets will match up against a defensive game-wrecker in Maxx Crosby. Tied for second in the NFL with 9.5 sacks and tied for first with 13 TFL, Crosby had 3 sacks in the Raiders' romp over the Giants in Week 9.
"Max is absolutely dominant," Hackett said. "You sit there, and you say sometimes you have certain plays you want to get to when he's off the field and he never leaves the field. I have so much respect for him as a player. You have to know where he is at all times."
A Team That Wants It So Bad
If the Jets hold onto the football and play clean on special teams after yielding an 87-yard punt return to Derius Davis, they will be in any game at any time. Rarely playing with the lead this season against a quarterback contingent that includes Patrick Mahomes, Jalen Hurts, Josh Allen and Justin Herbert, the Jets rank ninth in total defense (312 yds/g), third in pass defense (174.8 yds/g), tied for eighth in scoring (19.5 pts/g) and T-ninth in takeaways (13). Rookie QB Aidan O'Connell will make his third NFL start for the Raiders and his poise will be tested by a Jets pass rush that sacked Herbert 5 times and his 136 gross passing yards were the lowest of his career.
"They're obviously playing lights out, and we have to be better for them," Zach Wilson said of the defense. "I don't know if I'd say we feel pressure, but we need to do something. We need to score points. It's not good enough, and we understand that."
Prior to their 30-6 rout of the Giants, the Raiders hadn't scored more than 20points on offense this season. If the Jets protect the ball, they'll be in position to win. Five of their eight games to date have been decided by one score and the Green & White is 3-2 in those contests. The Jets don't need a prolific attack to win, but they need to be efficient.
"I think that we've got a team that wants it so bad, and they see those little opportunities there so it's almost like they're pressing too much," Hackett said. "Whether we're cheating to get a better block or whether we're trying to get in position a little bit better, maybe moving, or maybe trying to extend and get a little bit more on the play or hold the ball a little longer to try to get a big play. I think we have to let it come naturally and let those things, sometimes a 3-yard or 4-yard gain is positive. I think those are the things that we have to focus on."
In Las Vegas, the Jets offense hopes to end a drought with some lucky 7s.