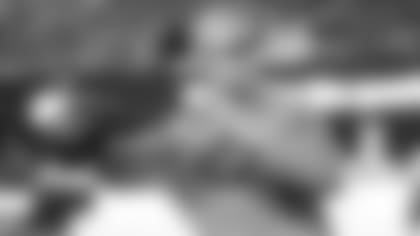 Nearly eight weeks after he tore his Achilles tendon in the regular-season opener against the Bills, QB Aaron Rodgers took the field before the Jets Week 9 game against the Chargers at MetLife Stadium on Monday night. He was seen pushing off his surgically repaired left leg and launching passes of 50-plus yards.
Tuesday, during Rodgers' weekly appearance on the Pat McAfee Show, he reiterated he is ahead of schedule in his recovery and that it could be a "few fortnights" before he's back in action.
"I am feeling good with my rehab," he said. "I have been grinding. I was able to get into New Jersey Monday morning and see the guys before the game and throw a couple of balls around with the trainers and equipment staff. Felt kind of normal to be out there. That was just me relieving some stress and having fun with the team."
The Jets lost to the Chargers, 27-6, and fell to 4-4 on the season. Following the game, Los Angeles S Derwin James asked Rodgers when he would be back in action. The four-time MVP responded, "give me a few weeks."
"I have known Derwin for a while and we have the same agency," Rodgers said. "I have a lot of respect for him and his game. I went over to dap him up before and after the game. I didn't realize that was going to get caught there. It was said with more tongue and cheek. It would be nice to be back in a couple weeks, but that is probably not anywhere near a realistic timeline. A couple of weeks could be a few or could be a lot more. More of phrase that did not have a specific timeline."
Head coach Robert Saleh was also asked about Rodgers comments and while he said he would keep his conversations with Rodgers private, he praised the future Hall of Famer's commitment to the team.
"He is working relentlessly to get back," Saleh said. "He is awesome, man. He doesn't have to, but he wants to. And I think that is testament to the locker room and how much they love him and how much he loves them."
Monday night marked the fourth consecutive home game Rodgers attended and third he threw before the game. He played catch before the Green & White's Week 6 win over the Eagles, and again in Week 8 before the Jets' defeated the Giants. With each game of catch, he has gotten more comfortable.
"I feel like I am actually checking myself when I am out there," Rodgers said. "I am asking how much can I actually do? How much pressure can I put on the foot? Like, last night, I did a little cross over which I hadn't really done. I am just testing myself. What am I able to do, how much weight can I put on the leg. How much pop can get off my back foot. But as much as I am doing it, it is a stress reliever for me.
"I can do a simulated gun drop, left right, left right. I even did a little crossover last night. I am feeling a lot more strength in the Achilles, but we are still a long way off from being able to be under center and get out to an outside zone and a keep fake. It is going to be a process, but I like where I am at. Obviously ahead of schedule and thankful."
During the game, Rodgers wore a headset, provided input to the coaches and helped guide QB Zach Wilson.
"For me on the headset, it is about me being the voice of calm at times," Rodgers said.  "Suggesting here and there, and then having little side conversation with tight ends and running backs and Zach and the coaching staff in between possessions while also looking at the pictures and trying to see if I see anything. For the most part, I am just a voice of reason and throwing some ideas out there."
The Jets offense ultimately struggled to produce Monday night, going 3-for-17 on third down and turning the ball over three times. However, the team remains in the thick of the AFC race and their standing in the playoff hunt down the road could play a factor in a Rodgers' return.
"I know what we are capable of, and I know how we have been practicing and I know the kind of talent we have," Rodgers said. "And it is not coming together consistently, 191 yards of offense and we lose by three scores is pretty wild. The defense is feeling pretty good, and the offense is going through our struggles, so there is a lot that has to happen."