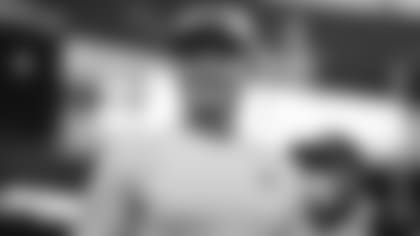 There were many TV shots on Friday night of Zach Wilson at MetLife Stadium. Zach talking with fellow quarterbacks Mike White, James Morgan and Josh Johnson, Zach with coordinator Mike LaFleur, Zach tossing the ball to himself.
In all of the shots, he was in longsleeved white athletic shirt, slacks and Jets baseball hat. In no shots was he wearing his uniform, pads and helmet.
Wilson — and a lot of his first-team teammates on both sides of the ball — didn't play in the Jets' 31-31 tie with the Eagles to end the preseason schedule. Head coach Robert Saleh said that was determined the day before the game and had nothing to do with the thunderstorm that passed over the Jersey Meadowlands and forced a half-hour delay of the opening kickoff.
"Zach always lobbies," Saleh said when asked if his rookie quarterback pressed him to play in his third preseason game. "He wants to play, he wants to be out there. They all lobbied, to be honest with you. But the decision was made."
Wilson no doubt saw the handwriting on the wall but still talked about getting more snaps and throws and points under his belt against the Birds.
"You don't want to get injured or anything before the season and put yourself in a bad spot," he said. "Obviously, I'm not worried about that, but you know how it is with injuries across the board. I wish I could play more just because the experiences, the learning, the tempo of the game, the operation — everything is just so good for us to see and feel and just get used to."
Saleh explained that most of his offensive and defensive frontliners were not going to play because of the way the training camp calendar unfolded with two weeks of joint practices, first with the Packers, then the Eagles.
"From the offensive side of the ball, when you look at all the different things that happen on the offensive line, with Mekhi [Becton] being out and things being shuffled, it just wasn't worth it," the coach said. "We just felt like we got enough accomplished. We wanted to give the younger guys a look, to give them a chance to etch their spot in stone on our roster."
Wilson's name is already chiseled onto the initial 53-man roster, which must be finalized no later than Tuesday afternoon. That was always going to be true of the second pick of the April draft out of BYU. But then he underscored his draft status with strong OTA, minicamp and training camp work, plus his noticeable improvement from the Green & White Practice to the Giants preseason opener to the practices and game at Green Bay.
"I think he's been everything we hoped he'd be," general manager Joe Douglas during his second-half interview with the WCBS game crew of Ian Eagle and Charles Davis. "His athletic ability, the way the ball jumps out of his hand, his football acumen, the way he downloads football information, his ability to not duplicate mistakes. It's been a lot of fun watching him go through these initial stages of his rookie year."
Wilson's summer numbers will be quickly forgotten but it's worth mentioning how he springboarded from a G&W Practice showing where he himself said he was "not great." In the 12-7 win over the Giants he was 6-of-9 passing for 63 yards and an 86.8 passer rating, producing one field goal on the two 10-plays-plus drives he directed.
Then in the 23-14 victory at the Packers, he upped the ante with 9-of-11 passing for 128 yards and two TD passes and directed the Jets' offense to two touchdowns and a field goal on four drives.
For the preseason, Wilson's final stat line was extremely promising: 15-of-20, 191 yards, two TDs, no turnovers, no sacks, and a 137.7 passer rating that through Friday night's games was still the best rookie rating in the NFL. On his drive production, he and the offense had the two TDs and two FGs on six series.
But Wilson refuses to rest on anything he's done since becoming a Jet in late April. He'll be using the next two weeks of practices back at the Atlantic Health Jets Training Center to get ready for when everything speeds up and the numbers count bigtime, beginning on opening day, Sept. 12, at Carolina.
"I've got to go out there with the same approach every day of how I can just keep bettering myself," Wilson said. "Not comparing myself to other people, but how can I just keep getting better and not feel complacent that I'm the guy."